About Leadership Sorghum
The Sorghum Checkoff is developing the next generation of leaders for the sorghum industry with its Leadership Sorghum program.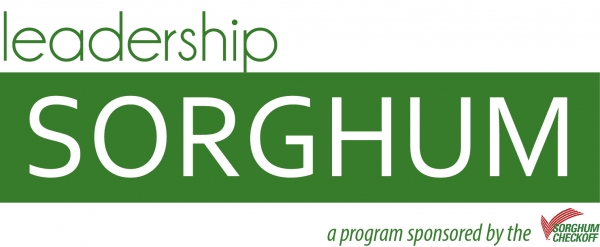 Throughout the program, Leadership Sorghum class members are exposed to various aspects of the sorghum industry from basic and applied research to international marketing. Through both hands-on and classroom-style education, participants will gain an understanding of how sorghum moves through the value chain, how checkoffs and interest organizations interact on behalf of the industry and what the future holds for the crop. The program also provides professional development training and networking opportunities.
Leadership Sorghum Class VI Launch
Selection Process
Learn more about the Leadership Sorghum Class VI selection process, a program designed to cultivate the next generation of sorghum leaders.
Leadership Sorghum Class VI Members
Ashley Tucker from Enid, Oklahoma
Brad Brainard from Enid, Oklahoma
Brad Haynes from Hays, Kansas
Clint France from Scott City, Kansas
David Barrett from Sinton, Texas
David Hunsberger from Mifflintown, Pennsylvania
Henry Martin from Texico, New Mexico
Hunter Bevill from Claude, Texas
Jimmy Diamond from Akron, Colorado
Jeremiah Nicholson from Dodge City, Kansas
Jessica Robertson from Robstown, Texas
Joel Huesby from Touchet, Washington
Trey Beyer from Portland, Texas
Nicole Johnson from Canyon, Texas
Lee Dunn from Edenton, North Carolina
Class VI Schedule
Program I: In the Boardroom – Lubbock, Texas – December 13-15, 2022
Theme: In the boardroom, connecting with leaders
Program II: Broader Horizons – Orlando, Florida – March 9-11, 2023
Theme: Commodity Classic, event created by farmers for farmers
Program III: From the Ground Up – Amarillo, Texas – September 12-14, 2023
Theme: Exploring the seed industry, public and private research 
Program IV: Global Markets – New Orleans, Louisiana – December 5-7, 2023
Theme: Connecting your farm to global markets
Program V: Graduation & Government Policy Impacts – Washington, DC – February 2024
Theme: Education and the democratic process
PROGRAM MISSION
Leadership Sorghum seeks to develop the next generation of leaders for the sorghum industry.
PROGRAM OBJECTIVES
Recruit new leadership and prepare participants interested in pursuing leadership roles within the sorghum industry.
Expose participants to and educate them about the sorghum industry.
BUILDING GRASSROOTS
Leadership Sorghum prepares sorghum farmers to be advocates for sorghum and agriculture on a local, regional and national platform. To date, Leadership Sorghum has resulted in 87 farmer-leaders from 13 different states. Leadership Sorghum alumni also are more involved within state and national organizations and committees as a result of the program.
INDUSTRY GAINS
Leadership is vital to the success of any industry, and Leadership Sorghum provides the necessary resources to lead our industry in the future. The first two classes of the Leadership Sorghum program have facilitated growers from 11 states who all bring different perspectives to the sorghum industry, including their cropping systems and their own farming operation structure. Leadership Sorghum highlights the Sorghum Checkoff by showcasing where producers' dollars are being invested and the level of synergy that exists within the sorghum industry.
Testimonials
"The biggest gain I received from Leadership Sorghum was the eye-opening detail of the industry. The great leadership skills given during each session have not only made me a better sorghum farmer but a better community leader as well. There are a million reasons why a producer or anyone connected to sorghum should participate in Leadership Sorghum, but they all come down to one thing: being a member and representative of a great team."
— Zack Rendel – Miami, Oklahoma – Class III
---
"Being outside the traditional sorghum belt, I had a great interest in learning about the crop firsthand. Leadership Sorghum provided me the knowledge to become more confident in my choices on my own operation along with helping others in my area brand new to growing the crop."
— Joe Krippner – Kimball, Minnesota – Class III
---
"If you grow sorghum you should know every part of the business. This program will show you aspects from breeding all the way to getting it to another country. It is a very exciting process to learn everything."
— Jesse Wyrill – Kirwin, Kansas – Class II
---
"As farmers, we need to be more engaged in our production, informing the public and in leadership. This type of a program is essential to building more understanding, more leadership and doing a better job of promoting our business to the public."
— Kent Martin – Carmen, Oklahoma – Class II
---
"Leadership Sorghum has provided me the ability to expand my horizons in the sorghum industry. I have enjoyed presentations from seed geneticists, plant breeders, U.S. congressmen, international grain buyers and many more experts in their fields. Without being a part of this group, I would have never had the pleasure of doing this. The other 14 class members have been one of the most enjoyable parts of Leadership Sorghum. Being able to talk about different farming practices, marketing and much more has been great. I have enjoyed being surrounded by motivated, like-minded producers. The whole experience has been refreshing to me."
— Mike Baker – Trenton, Nebraska – Class I
---
"Leadership Sorghum gave me a whole new understanding of sorghum, not only in our industry, but also as a consumer. I learned about many different uses for sorghum and also the important role that biomass sorghum and sweet sorghum have in our society as energy and fuel sources. Sorghum has a successful future not only on our farm, but all throughout the country since it is a drought-tolerant, and water-sipping crop. It will always be a profitable crop in our farming rotation."
— Josh Levin – Kensington, Kansas – Class I