Pheasants Forever And Quail Forever Welcome United Sorghum Checkoff Program As National Sponsor And Strategic Conservation Partner In The Great Plains
Written by Jared Wiklund and originally posted by Pheasants Forever and Quail Forever
Building upon an existing conservation and working lands partnership, Pheasants Forever and Quail Forever are pleased to announce the United Sorghum Checkoff Program (USCP) as the organization's newest national sponsor. Promoting farm-level sustainability and profitability for sorghum growers in the Great Plains, the organizations are committed to showcasing the nexus between upland bird habitats and sorghum production.
PF/QF Partnership
"The Habitat Organization and the United Sorghum Checkoff Program are poised to work closely with sorghum growers to deliver conservation solutions for increased wildlife habitat and soil health, along with improved farm profitability," said Chris Kalis, director of corporate partnerships for Pheasants Forever and Quail Forever. "Likewise, there is a unique, historical value to the link between upland birds and sorghum fields throughout America's working lands. We want to help tell this incredible story, and our blooming partnership with the United Sorghum Checkoff Program is vital for doing so."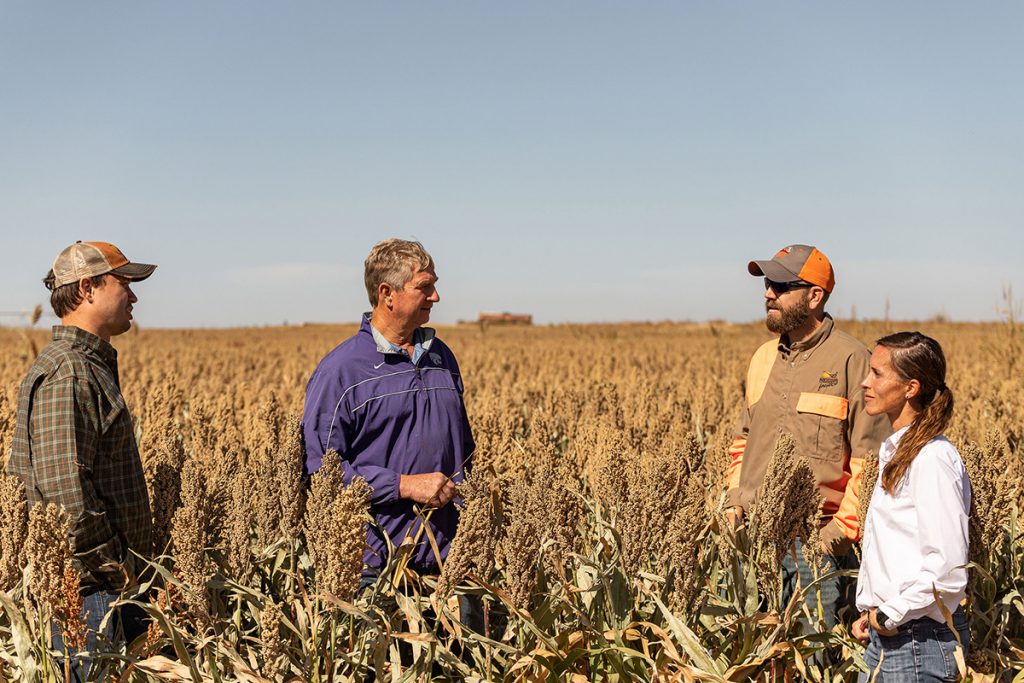 "Sorghum growers are working every day to be responsible, successful stewards and producers," said Kira Everhart-Valentin, USCP sustainability director. "Our goal is to support their efforts in identifying smart solutions that achieve both environmental and economic sustainability on their farms. By capitalizing on sorghum's natural resilience and the key role it plays in upland bird ecosystems, we believe that this partnership will help expand practices and systems that are a benefit to all."
Central to the sponsorship is the development of an on-farm conservation program that specifically targets sorghum growers in Kansas' High Plains region, stretching across the western half of the state. Working directly with farmers through the hiring of precision agriculture and conservation specialists, the partnership will implement a three-year program to provide participating landowners with cost-share incentives for the installation of wildlife-friendly conservation practices on strategic areas and marginal acres where sorghum often thrives.
Gathering key sustainability metrics on sorghum acres that assess the impact of on-the-ground conservation programs – such as reduced tillage, improved soil health practices, increased carbon sequestration, etc. – is another critical deliverable from the partnership.
"There is a growing demand for evidence-supported sustainability data from consumers and food product companies," added Kalis. "Pheasants Forever, Quail Forever and the United Sorghum Checkoff Program want to assist growers in being leaders for sustainability, which is why we are capturing this important data throughout the coming years."
For more information about the national sponsorship between the United Sorghum Checkoff Program, Pheasants Forever and Quail Forever, please contact Kira Everhart-Valentin, sustainability director for USCP, at 620-874-8195 or kira@sorghumcheckoff.com.
Sorghum for B.I.R.D.S.
Pheasants Forever and Quail Forever have partnered with the United Sorghum Checkoff Program (USCP) to offer conservation cost-share opportunities for sorghum producers in western Kansas. The new sustainability initiative – Sorghum for BIRDS (Building Innovative, Resilient, and Diverse agricultural Systems) – targets low performing acres by offering growers a one-time incentive payment to apply targeted conservation practices in tandem with sorghum production.
Download the program and application details here 
Contact
Pheasants Forever, Quail Forever and the United Sorghum Checkoff Program are working hand-in-hand with sorghum producers in the Great Plains to find conservation solutions that not only contribute to wildlife habitat and soil health but also improve farm profitability and a better bottom line.
Interested in learning more about the unique relationship between wildlife and sorghum fields on working lands? We can help your farm be both more profitable and more sustainable.
Contact us today at: sorghum@pheasantsforever.org