Balsamic Beet Sorghum
https://www.sorghumcheckoff.com/recipes/balsamic-beet-sorghum/
0
people like this recipe
0
people dislike this recipe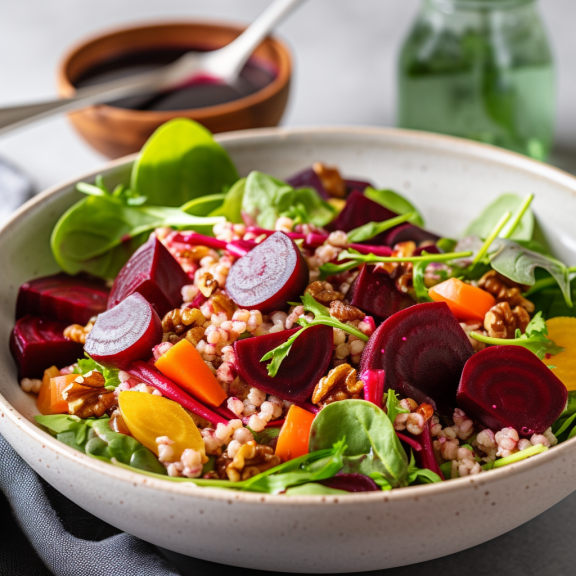 This Balsamic Beet Sorghum Salad is a delicious and healthy way to enjoy the flavors of spring. The beets are roasted in the oven until they are tender and then tossed with a balsamic vinegar dressing. The sorghum is cooked until it is tender and then added to the salad along with some chopped vegetables. This salad is perfect for a light lunch or dinner, and it is also a great way to use up leftover beets.
The beets add a sweet and earthy flavor to the salad, while the sorghum provides a nutty and chewy texture. The balsamic vinegar dressing ties everything together and adds a touch of acidity. This salad is packed with nutrients and antioxidants, and it is a great way to get your daily dose of vegetables.
If you are looking for a delicious and healthy salad to enjoy this spring, this Balsamic Beet Sorghum Salad is a great option. It is easy to make, and it is sure to please even the pickiest of eaters.
Here are some tips for making this salad:
Use fresh beets for the best flavor.
Roast the beets in the oven until they are tender, but not mushy.
Don't overcook the sorghum. It should be cooked until it is tender, but still has a bit of a bite.
Add your favorite vegetables to the salad. Some good options include cucumbers, tomatoes, and red onions.
Dress the salad with your favorite balsamic vinegar dressing.
Serve the salad immediately or refrigerate for later.
Share This Recipe
Ingredients
1 cup Fully Cooked Sorghum, Drained & Rinsed

1 cup Beets, Cooked and Diced

4 each Bacon, Cooked and Diced

1/4 cup Olive Oil

2 tablespoons Balsamic Vinegar

2 tablespoons Sliced Green Onions

2 teaspoons Salt

1 teaspoon Black Pepper
Instructions
Add all ingredients into a large bowl. Mix to incorporate.

If serving cold, marinate for 4 hours prior to serving. If serving hot, place in an pan and cook in a preheated 400° oven for 20 minutes.