Chocolate Almond-Sorghum Poppers
https://www.sorghumcheckoff.com/recipes/chocolate-almond-sorghum-poppers/
0
people like this recipe
0
people dislike this recipe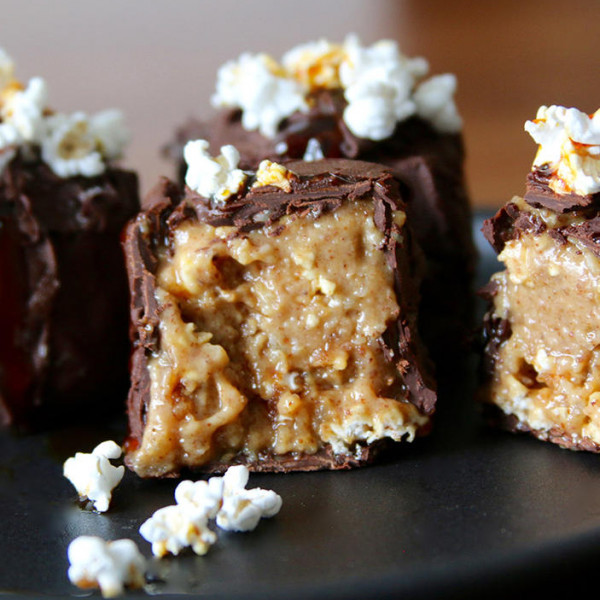 Sorghum Form
Popped Whole Grain
Share This Recipe
Ingredients
6 medjool dates

2-3 tbsp of regular or nut milk

1 cup of popped sorghum

1/2 cup of walnuts

1 tsp of sorghum syrup

1/2 cup of chocolate chips

2 tbsp of almond or peanut butter

pinch of salt
For the sorghum caramel- in a food processor blend:
6 medjool dates

2-3 tbsp of almond or any nut milk

1/2 cup of pecans or walnuts

1 tsp of sorghum syrup

Process on high into a paste or a thick, caramel-like consistency.
Instructions
In a bowl, toss 1 cup of popped sorghum, 2 tablespoons of almond butter, and a good pinch of pink or sea salt.



Add the caramel to the bowl and fold all ingredients together. The mixture will be sticky.

You can either hand roll or in a silicone ice tray, candy mold (sprayed with a non-stick oil) spoon in the mixture and pop into the freezer for at least an hour or overnight. The mixture will not set completely but that's what you want. A sort of gooey, almost solid like consistency.

Tip: keep them in the freezer until you have melted the chocolate and ready to coat.

Now in double-boiler or in a sauces pan, with water, fitted with a stainless bowl, add you favorite chocolate.Tip: Never let the bowl touch boiling water. You want the steam to melt your chocolate.

Once the chocolate is melted (5-8 minutes or so), let it sit for 10-15 minutes to cool. Now remove your poppers and your ready to coat. Dip in or spread the chocolate with a butter knife over the frozen poppers.

Garnish with some popped sorghum, a drop of sorghum syrup and a tiny, pinch of salt. Pop into the fridge for 15 minutes and they'll be ready to go!