Glazed Walnuts & Berries Sorghum Bowl
https://www.sorghumcheckoff.com/recipes/glazed-walnuts-berries-sorghum-bowl/
3
people like this recipe
0
people dislike this recipe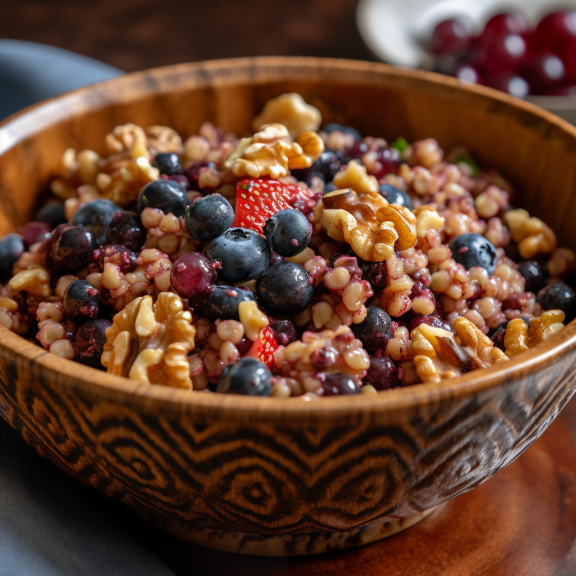 This delicious bowl is a great way to start your day. The sorghum provides a hearty base, while the walnuts and berries add sweetness and crunch. The glaze is the perfect finishing touch, making everything come together in a perfect harmony of flavors.
The glaze in this bowl is made with honey, cinnamon, and vanilla extract. It is the perfect finishing touch to the bowl, adding a touch of sweetness and flavor.
This Glazed Walnuts & Berries Sorghum Bowl is a quick and easy meal that is perfect for a busy morning.
Share This Recipe
Ingredients
2 cups Fully Cooked Sorghum, Drained & Rinsed

1/2 tablespoon Brown Sugar

1/4 teaspoon Cinnamon

1/4 cup Walnuts, Chopped

2 tablespoons Cranberries, Dried

2 teaspoons Blueberries, Dried
Instructions
In a medium sized stockpot place Sorghum on low heat until ready to use. Make sure Sorghum is warm.

This recipe is a bowl constructed by evenly distributing all of the ingredients.

Place Sorghum in bowl, surround Sorghum with groups of the other ingredients. Place Brown Sugar in a straight line from 12 o'clock to 6 o'clock. Sprinkle Cinnamon over entirety of bowl. Place Walnuts throughout the entire bowl along with the Berries.