Lime Cilantro Pearls with Avocado
https://www.sorghumcheckoff.com/recipes/lime-cilantro-pearls-with-avocado/
0
people like this recipe
0
people dislike this recipe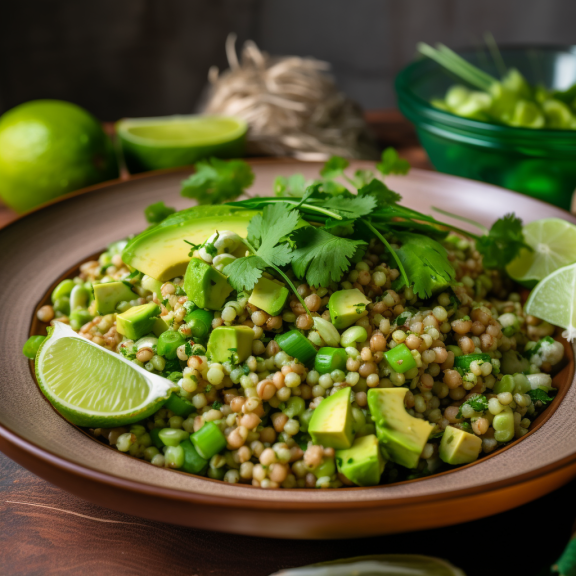 Sorghum Form
Pearled Grain
Lime Cilantro Pearls with Avocado is a refreshing and flavorful salad that is perfect for a light meal or a side dish. The sorghum pearls are cooked until they are tender and chewy, and then they are tossed with a lime dressing that is made with fresh lime juice, cilantro, and garlic. The avocado is diced and added to the salad just before serving, and the whole thing is topped with a sprinkle of green onions.
This salad is a great way to use up leftover sorghum pearls, and it is also a good source of fiber and protein. The lime dressing is light and refreshing, and it pairs perfectly with the cilantro and avocado. The green onions add a bit of crunch to the salad, and they also help to brighten the flavors.
If you are looking for a healthy and delicious salad option, Lime Cilantro Pearls with Avocado is a great choice. It is easy to make, and it can be customized to your liking. You can add or remove ingredients as you see fit, and you can also adjust the amount of lime juice and cilantro to your taste.
| | | | | |
| --- | --- | --- | --- | --- |
| | | | | |
| | | | | |
| | | | | |
| | | | | |
| | | | | |
| | | | | |
| Tomatoes Roma, Red, Diced | | | | |
| | | | | |
| Onions, Young Green, Tops Only | | | | |
| | | | | |
| | | | | |
Share This Recipe
Ingredients
See above table for scaled ingredient requirements
Instructions
Use this recipe as a basis for a burrito bowl. Top it with meat like grilled, sliced chicken or BBQ beef brisket. It can also be served as a side salad. The avocado gives it a creamy and smooth texture. Do not add the avocado too far in advance of serving so the avocado doesn't turn brown.

Bring the chicken stock to a boil and add the sorghum pearls. Cook covered for 45 minutes or until all the liquid is absorbed. You may substitute lightly salted water if chicken stock in not available.

While the sorghum pearls are cooking, dice tomatoes and bell pepper, chop the cilantro and slice the green onions.

Refrigerate the sorghum pearls to cool completely.

Dice the avocado and place in the lime juice until ready to mix.

When the sorghum pearls are cooled — add the rest of the ingredients and blend.

Plating instructions for one or multiple sizes:

This makes a great base salad for a burrito bowl. A burrito bowl is a deconstructed burrito served in a bowl without the flour tortilla.

For a burrito bowl, place the Lime Cilantro Sorghum Pearls with Avocado in the bottom of the bowl and top with grilled chicken or shredded BBQ beef. Surround with some spicy black beans and top with pico de gallo salsa, sour cream and shredded cheese.