Mama Mia Italian Chicken and Sorghum Soup
https://www.sorghumcheckoff.com/recipes/mama-mia-italian-chicken-and-sorghum-soup/
2
people like this recipe
0
people dislike this recipe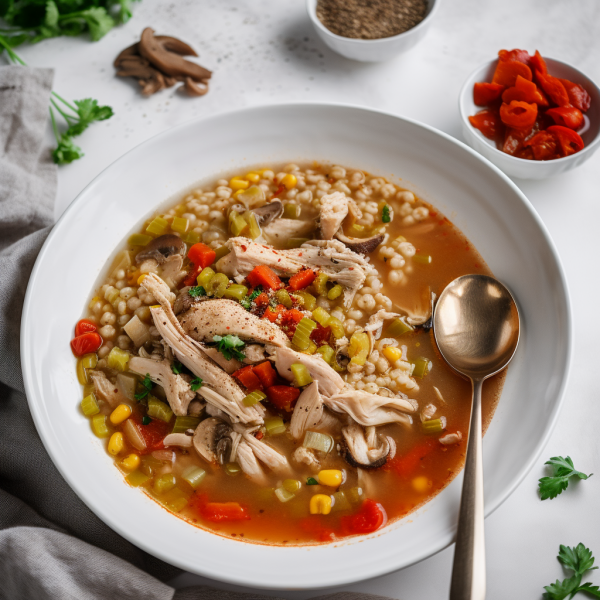 | | | | | |
| --- | --- | --- | --- | --- |
| Ingredients | 25 Servings | 50 Servings | 75 Servings | 100 Servings |
| Pearled Sorghum Grain, Gluten Free | 528.343 gram(s) | 1.057 kilogram(s) | 1.585 kilogram(s) | 2.113 kilogram(s) |
| Butter, Unsalted | 4 ounce(s) | 8 ounce(s) | 12 ounce(s) | 1 pound(s) |
| Onions, Yellow, 3/8 inch dice | 1 pint(s) | 1 quart(s) | 1.5 quart(s) | 2 quart(s) |
| Celery, 3/8 inch dice | 1 pint(s) | 1 quart(s) | 1.5 quart(s) | 2 quart(s) |
| Pepper, Bell or Sweet, Green | 1 cup(s) | 1 pint(s) | 1.5 pint(s) | 1 quart(s) |
| Pepper, Bell or Sweet, Red | 1 cup(s) | 1 pint(s) | 1.5 pint(s) | 1 quart(s) |
| Garlic, Chopped | 1 fluidounce(s) | 2 fluidounce(s) | 3 fluidounce(s) | 4 fluidounce(s) |
| Basil, Fresh | 0.5 ounce(s) | 1 ounce(s) | 1.5 ounce(s) | 2 ounce(s) |
| Seasoning, Italian | 1.5 teaspoon(s) | 1 tablespoon(s) | 1.5 tablespoon(s) | 1 fluidounce(s) |
| Squash, Summer, Zucchini, 1/2 inch dice | 1 pint(s) | 1 quart(s) | 1.5 quart(s) | 2 quart(s) |
| Chicken Stock | 1 gallon(s) | 2 gallon(s) | 3 gallon(s) | 4 gallon(s) |
| Mushrooms, Common, Raw | 8 ounce(s) | 1 pound(s) | 1.5 pound(s) | 2 pound(s) |
| Paste, Tomato, Canned | 3 ounce(s) | 6 ounce(s) | 9 ounce(s) | 12 ounce(s) |
| Chicken Breast Tenders, Cooked, Conventional Oven | 12 ounce(s) | 1.5 pound(s) | 2.25 pound(s) | 3 pound(s) |
| Tomatoes, Red, Diced | 1 pint(s) | 1 quart(s) | 1.5 quart(s) | 2 quart(s) |
| Black Pepper | 1.5 teaspoon(s) | 1 tablespoon(s) | 1.5 tablespoon(s) | 1 fluidounce(s) |
Share This Recipe
Ingredients
See above table for scaled ingredient requirements
Instructions
Melt butter blend in a large pot over medium heat.

Add onions, celery, bell peppers, mushrooms and garlic — sauté for 5 to 7 minutes stirring occasionally.

Add the chicken stock, sorghum pearls, Italian seasoning, basil and tomato paste. Simmer for 25 minutes.

Add cooked chicken breast meat, zucchini and tomatoes and return to a simmer for 10 more minutes.

Add pepper and correct seasoning with salt or chicken base.

Transfer to steam-table to hold at 140F for higher or quick chill for future service.

Garnish with chopped parsley and grated parmesan cheese.