Sorghum Waffles with Glazed Apples
https://www.sorghumcheckoff.com/recipes/sorghum-waffles-with-glazed-apples/
0
people like this recipe
2
people dislike this recipe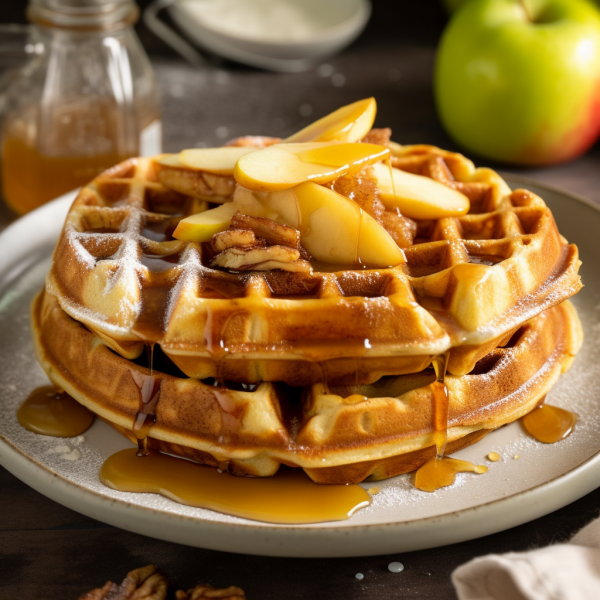 | | | | | |
| --- | --- | --- | --- | --- |
| Ingredients | 25 servings | 50 servings | 75 Servings | 100 Servings |
| Sorghum flour, whole-grain | 2 pound(s) | 4 pound(s) | 6 pound(s) | 8 pound(s) |
| Gala Apples | 13 | 25 | 38 | 50 |
| Juice, Apple, Unsweetened, Canned | 1 pint(s) + 1 c. | 1 quart(s) + 2 c. | 2 quart(s) + 1 c. | 3 quart(s) |
| Syrup, Maple, Grade A | 1 pint(s) | 1 quart(s) | 1 quart(s) + 2 c. | 2 quart(s) |
| Cinnamon, Ground | 1.5 teaspoon(s) | 1 tablespoon(s) | 1.5 tablespoon(s) | 2 tablespoon(s) |
| Egg, Raw, Large | 6 | 12 | 18 | 24 |
| Milk, Whole | 1 quart(s) + 1 c. | 2 quart(s) + 2 c. | 3 quart(s) + 3 c. | 1 gallon(s) + 4 c. |
| Honey | 4 fluid ounce(s) | 1 cup(s) | 1 1/2 cup(s) | 1 pint(s) |
| Oil, Canola | 1 1/2 cup(s) | 1 pint(s) + 1 c. | 1 quart(s) + 1/2 c. | 1 quart(s) + 2 c. |
| Baking Powder, Double Acting with Phosphate | 4 tablespoon(s) | 8 tablespoon(s) | 12 tablespoon(s) | 1 cup(s) |
| Vanilla Extract | 1.5 tablespoon(s) | 3 tablespoon(s) | 4.5 tablespoon(s) | 6 tablespoon(s) |
| Salt, Table | 1.5 teaspoon(s) | 1 tablespoon(s) | 1.5 tablespoon(s) | 2 tablespoon(s) |
Share This Recipe
Ingredients
See above table for scaled ingredient requirements
Instructions
Put the maple syrup, cinnamon and the apple juice (or apple cider) in a large rondo and bring to a boil. Reduce by half.

While the maple syrup and apple cider is reducing, cut the apples into 8 wedges and cut out the seeds. An apple wedger tool makes this a quick task.

Put the apples in the syrup mix and cook until just tender. Do not overcook the apples.

Prepare the waffle mix by combining the rest of the ingredients; sorghum flour, baking powder, salt, canola oil, eggs, milk, honey, vanilla extract.

Cook the waffles in the usual manner with a waffle iron.

To Serve:

Top each waffle with apple wedges in syrup. Serve extra maple syrup on the side.

This is a great breakfast or brunch buffet item. The glazed apples can be kept warm in a chafing dish and ladled on the finished waffles.

Whipped cream can also be offered which will melt and upgrade this item.