Sorghum Whole Grain Banana Bread
https://www.sorghumcheckoff.com/recipes/sorghum-whole-grain-banana-bread/
1
people like this recipe
0
people dislike this recipe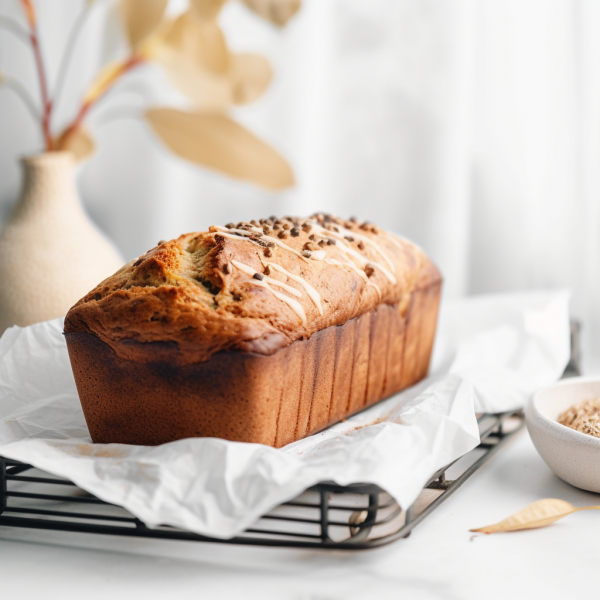 | | | | | |
| --- | --- | --- | --- | --- |
| Ingredients | 25 servings | 50 servings | 75 Servings | 100 Servings |
| Sorghum Flour | 12 ounce(s) | 1.5 pound(s) | 2.25 pound(s) | 3 pound(s) |
| Banana, Raw | 10 or 3lbs (mashed) | 20 or 6lbs (mashed) | 30 or 9lbs (mashed) | 40 or 12lbs (mashed) |
| Brown Sugar | 1 pint(s)+2oz. | 1 quart(s)+4oz. | 1 quart(s)+ 23/4c. | 2 quart(s)+1c. |
| Honey | 3 fluid ounce(s) | 6 fluid ounce(s) | 1 cup(s)+1 fluid oz. | 11/2cup(s) |
| Egg,Raw,Large | 4 item(s) | 8 item(s) | 12 item(s) | 16 item(s) |
| Oil,Canola | 1 cup(s) | 1 pint(s) | 1 pint(s)+ 1c. | 1 quart(s) |
| VanillaExtract | 1.5 tablespoon(s) | 1.5 fluid ounce(s) | 2.25 fluid ounce(s) | 3 fluid ounce(s) |
| Baking Powder | 2 teaspoon(s) | 4 teaspoon(s) | 2 tablespoon(s) | 3 tablespoon(s) |
Share This Recipe
Ingredients
See above table for scaled ingredient requirements
Instructions
Peel the bananas and mash them. This can be accomplished in a mixing machine with a wire whip.

Sift the dry ingredients together and then add all the ingredients to the bananas and mix thoroughly.

Flour loaf pans and divide the banana bread mix between the loaf pans.

Bake at 350 degrees for about 40 to 45 minutes or until a tooth pick inserted in the center comes out clean.

This item is better a little overdone than underdone. The banana bread should be made a day ahead of serving. It will stay moist for three or four days.