Spanish Style White Pearled Sorghum Pilaf
https://www.sorghumcheckoff.com/recipes/spanish-style-white-pearled-sorghum-pilaf/
0
people like this recipe
0
people dislike this recipe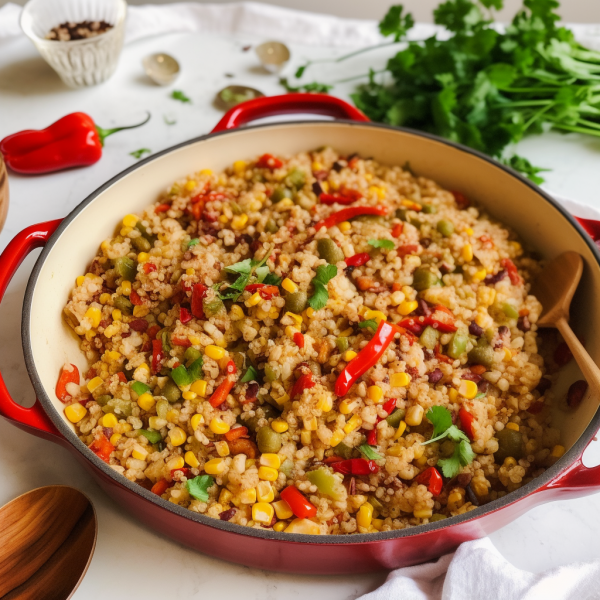 | | | | | |
| --- | --- | --- | --- | --- |
| Ingredients | 25 servings | 50 servings | 75 Servings | 100 Servings |
| Pearled Sorghum | 839.986 gram(s) | 1.680 kilogram(s) | 2.520 kilogram(s) | 3.360 kilogram(s) |
| Chopped Onion | 3.704 fluid ounce(s) | 7.407 fluid ounce(s) | 1.389 cup(s) | 1.852 cup(s) |
| Chopped Bell Pepper | 1.157 cup(s) | 1.157 pint(s) | 1.736 pint(s) | 1.157 quart(s) |
| Canned Tomatoes Diced | 1.620 pound(s) | 3.241 pound(s) | 4.861 pound(s) | 6.481 pound(s) |
| Table Salt | 2.778 teaspoon(s) | 1.852 tablespoon(s) | 1.389 fluid ounce(s) | 1.852 fluid ounce(s) |
| Cumin | 1.389 teaspoon(s) | 2.778 teaspoon(s) | 1.389 tablespoon(s) | 1.852 tablespoon(s) |
| Water | 1.852 quart(s) | 3.704 quart(s) | 1.389 gallon(s) | 1.852 gallon(s) |
| Granulated Garlic | 2.778 teaspoon(s) | 1.852 tablespoon(s) | 1.389 fluid ounce(s) | 1.852 fluid ounce(s) |
Share This Recipe
Ingredients
See above table for scaled ingredient requirements
Instructions
Bring water to a boil.

Drain canned tomatoes and reserve the juice.

Add white pearled sorghum grain in the water and then add the bell peppers, onions, diced tomatoes, salt, granulated garlic and cumin into the boiling water.

Stir and bring back to a boil, then mix in reserved tomato juice.

Cover the pot and lower the flame to a simmer and allow to simmer for 30 minutes. Turn the flame off and allow to sit for 20 minutes.

Can serve warm or cold as a side dish.