Spicy Asian Kale and Sorghum Pearls
https://www.sorghumcheckoff.com/recipes/spicy-asian-kale-and-sorghum-pearls/
0
people like this recipe
0
people dislike this recipe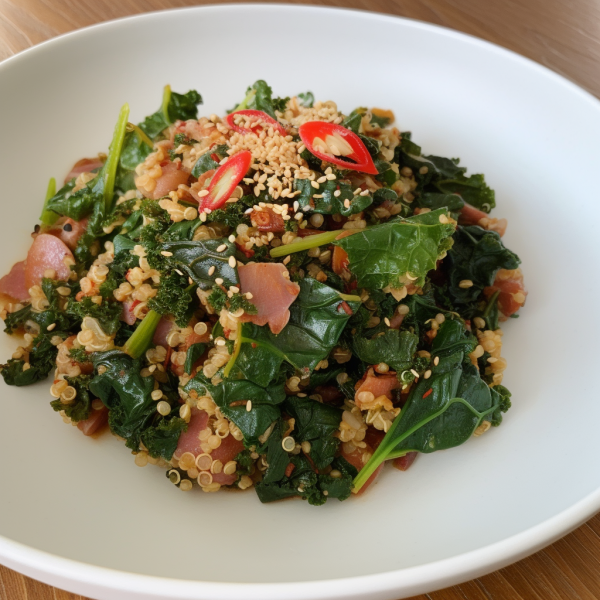 | | | | | |
| --- | --- | --- | --- | --- |
| Ingredients | 25 servings | 50 servings | 75 Servings | 100 Servings |
| Pearled Sorghum | 681 gram(s) | 1.362 kilogram(s) | 2.043 kilogram(s) | 2.724 kilogram(s) |
| Tap Water | 1 quart(s) | 2 quart(s) | 3 quart(s) | 1 gallon(s) |
| Ham | 8 ounce(s) | 1 pound(s) | 1.5 pound(s) | 2 pound(s) |
| Canola Oil | 4 fluid ounce(s) | 1 cup(s) | 1.5 cup(s) | 1 pint(s) |
| Yellow Onion, Diced | 1.5 cup(s) | 1.5 pint(s) | 1.125 quart(s) | 1.5 quart(s) |
| Crushed Garlic Cloves | 4 | 8 | 12 | 16 |
| Coarsely Chopped Kale | 6 pound(s) | 12 pound(s) | 18 pound(s) | 24 pound(s) |
| Vinegar | 1 cup(s) | 1 pint(s) | 1.5 pint(s) | 1 quart(s) |
| Ground White Pepper | 1 teaspoon(s) | 2 teaspoon(s) | 1 tablespoon(s) | 1.333 tablespoon(s) |
| Sauce, Hoisin | 1 cup(s) | 1 pint(s) | 1.5 pint(s) | 1 quart(s) |
| Sesame Seeds | 2 fluid ounce(s) | 4 fluid ounce(s) | 6 fluid ounce(s) | 1 cup(s) |
| Low Sodium Soy Sauce | 1 cup(s) | 1 pint(s) | 1.5 pint(s) | 1 quart(s) |
Share This Recipe
Ingredients
See above table for scaled ingredient requirements
Instructions
Bring the water to a boil and add the sorghum pearls. Bring to a boil again then reduce heat and simmer for 38 minutes. When done, remove from heat, cover and reserve.

Heat the canola oil in a large rondo pot.

Add the onions and sauté until onions are translucent.

Add the garlic and finely julienned ham (1 1/8 inch-wide strips by 2 ½ inches long) and heat thoroughly.

Add the vinegar, soy sauce, pepper and Hoisin sauce and bring to a boil.

Add the kale and wilt slightly. Fold in the sorghum pearls and sesame seeds, then mix thoroughly.

Serve warm.