Almond Mushroom Sorghum Pilaf
https://www.sorghumcheckoff.com/recipes/almond-mushroom-sorghum-pilaf/
5
people like this recipe
1
people dislike this recipe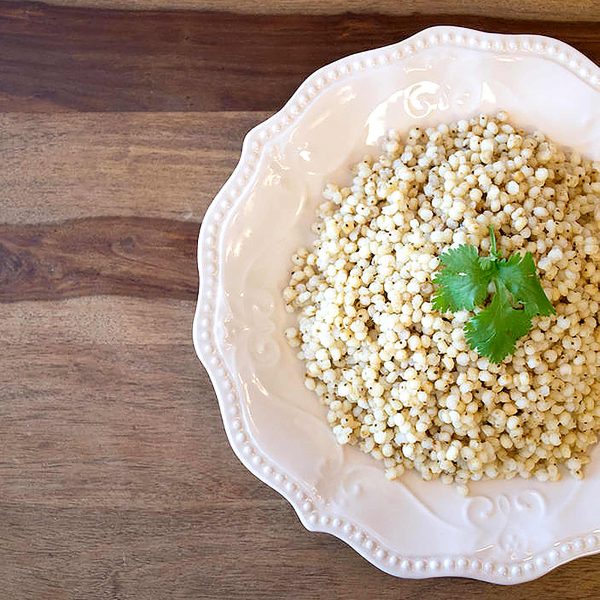 Sorghum Form
Pearled Grain
Recipe developed by:
Chef Ray Potter, CEC, AAC
Share This Recipe
Ingredients
681 grams Pearled Sorghum Grain

2 quarts Chicken Stock

4 fl oz Canola Oil

1 cup Celery, washed, 1/4 inch dice

1 cup Chopped Red Bell Pepper

1 cup Yellow Onion, 1/4 inch dice

1 cup Green Onion, thinly sliced

1.5 teaspoons Garlic Powder

1 tablespoon Salt

0.25 teaspoons White Pepper, Ground

1.5 cups Unbalanced Toasted Almonds

1 quart Sliced Mushrooms
Instructions
Heat the canola oil in a large rondo pot.

Add the celery, onions and red bell pepper and sauté until the onions are translucent.

Add the mushrooms and the seasonings. Sauté 5 to 7 minutes or until all the vegetables are tender. Stir occasionally with the cook's spoon.

Add the stock and sorghum pearls and bring to a boil. When boiling reduced heat and simmer for 38 minutes. Cover while simmering to reduce evaporation.

Toast the almonds dry. Do not add butter or oil to the almonds.

Remove from the stove then add the toasted almonds and green onions - fold them into the pilaf.

Garnish with thinly sliced green onions.
Nutrition Facts
Calories per serving

202

Fat per serving

9.4g

Saturated fat per serving

0.9g

Sodium per serving

343.4mg

Carbohydrates per serving

24.8g

Fiber per serving

1g

Protein per serving

5.7g