Sorghum Berry Breakfast Porridge
https://www.sorghumcheckoff.com/recipes/sorghum-berry-breakfast-porridge/
2
people like this recipe
0
people dislike this recipe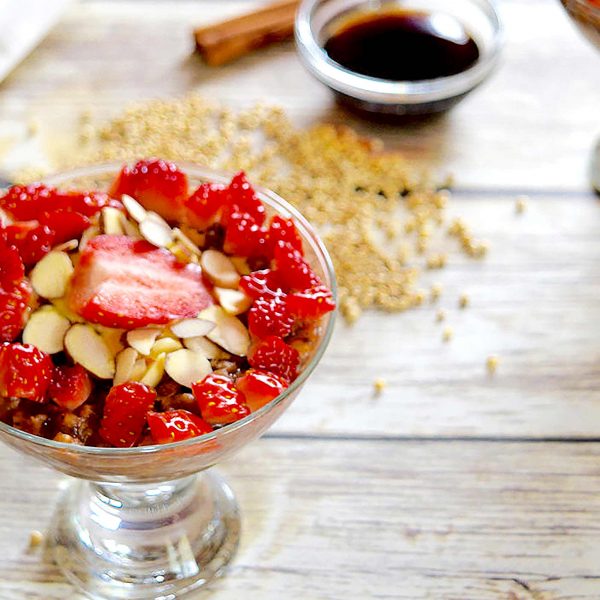 This recipe can be doubled and prepared in a 4-6 quart slow cooker.
Recipe developed by:
Triad to Wellness
Share This Recipe
Ingredients
1 teaspoon coconut oil

1/2 cup whole grain sorghum

2 cups unsweetened almond milk or your milk of choice

1 teaspoon vanilla extract

½-1 teaspoon cinnamon

1/4-1/2 teaspoon ginger

1 tablespoon sorghum syrup

Strawberries can be used

2 tablespoons chia seeds

¼ cup sliced almonds
Instructions
In a small 1.5 quart slow cooker evenly lightly grease the slow cooker insert with coconut oil. Add whole grain sorghum, almond milk, vanilla extract, cinnamon, ginger, sorghum syrup and strawberries to the slow cooker. Combine all ingredients well.

Cover and cook on low for 8 hours (or high for 4 hours)

Once cooked, stir in chia seeds and allow liquid to absorb for 5-10 minutes.

Evenly pour porridge into 3 serving dishes and top with almond.
Nutrition Facts
Calories per serving

290

Fat per serving

10g

Saturated fat per serving

1g

Sodium per serving

124mg

Carbohydrates per serving

40g

Fiber per serving

10g

Sugar per serving

9g

Protein per serving

8g