Wondergrain Stir-Fry
https://www.sorghumcheckoff.com/recipes/wondergrain-stir-fry/
3
people like this recipe
3
people dislike this recipe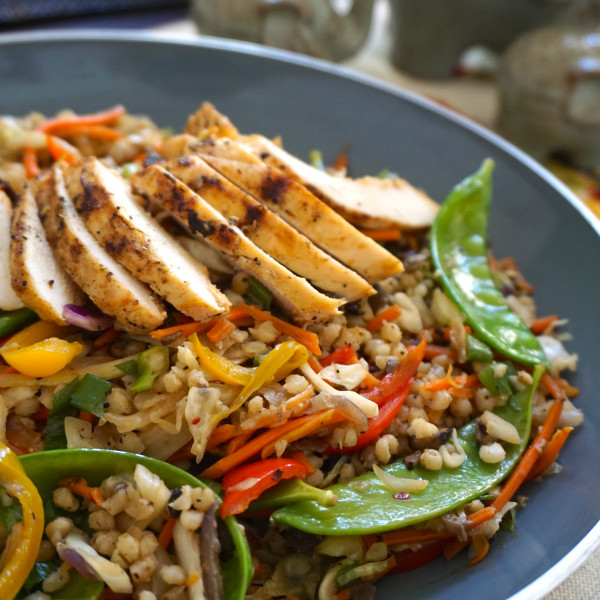 Ingredients
2 tablespoons sesame oil

1 medium red onion thinly sliced

5 large garlic cloves finely minced (or use a garlic press)

2 tablespoon finely grated ginger (divided)

1 cup matchstick carrots (pre-cut in your grocer's produce section)

Assortment of sweet bell peppers finely sliced (red, yellow and orange. Use 1/2 of each pepper)

1 cup finely chopped assorted mushrooms (oyster, shitake, Portobello etc.) Pinch of sea salt

Pinch crushed red peppers (optional)

½ tablespoon brown sugar (optional)

½ tablespoon rice wine vinegar (optional)

3 cups cooked Wondergrain sorghum, (Whole Grain or pearled)

4 tablespoons Braggs Amino or soy sauce

1 ½ cups thinly sliced cabbage (purple and green – May use the pre-cut cabbage for coleslaw found in the produce section)

1 cup snow peas

1 cup green onion sliced (approximately 6 stalks)
Instructions
Heat a large non-stick skillet over med-high heat. Add sesame oil to pan; swirl in pan to coat.

Add red onion, garlic and 1 tablespoon of ginger. Stir for 2 minutes.


Add carrots, bell peppers, mushrooms, salt, crushed red pepper, sugar, rice wine vinegar and cook for about 2 to 3 minutes.

Add cooked Wondergrain sorghum, Braggs Amino or soy sauce, cabbage, snow peas, green onion, ginger and stir for approximately 2 to 3 minutes.

Toss well and serve.