Postemergence Weed Control in Sorghum
Agronomy Insights
By Brent Bean, Ph.D., Sorghum Checkoff Agronomist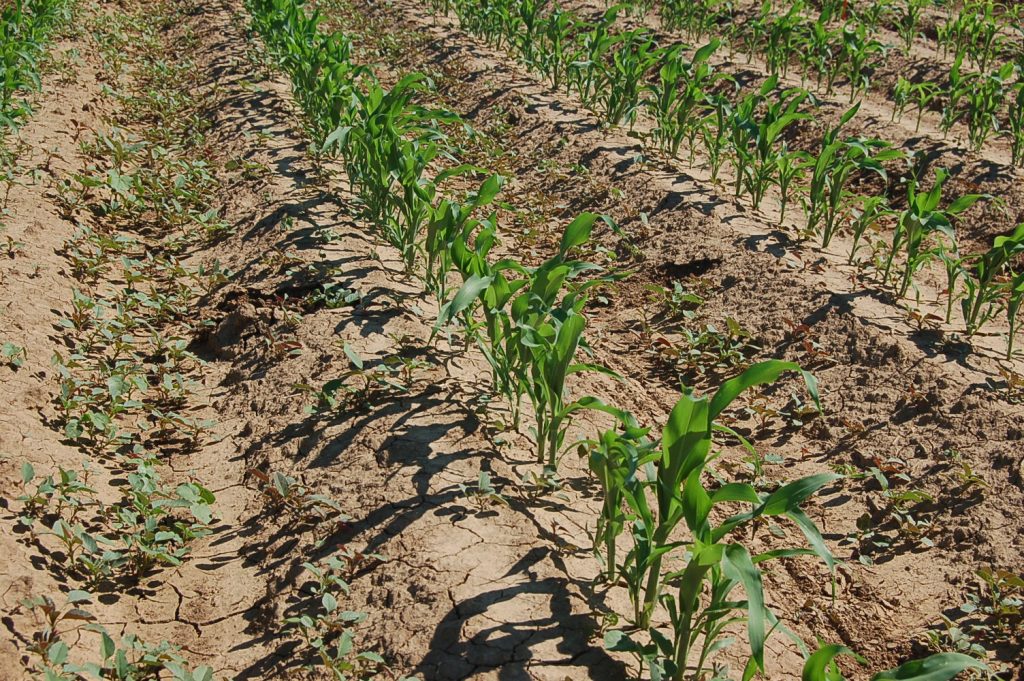 Grain sorghum, in particular, is greatly dependent on a successful preemergence program. If preemergence herbicides were not applied or not effective due to weather conditions, growers should apply postemergence herbicides. There are several postemergence herbicide options available for sorghum crops, especially for broadleaf weed control.
Atrazine. This product has an added advantage when applied postemergence because atrazine is not only very effective on small emerged broadleaf weeds, but at the same time, provides preemergence activity. Soil restrictions often prevent preemergence use of atrazine in sandy, high pH or low organic matter soils due to the potential for crop injury, but these restrictions do not apply to postemergence application. Growers, however, should check for any crop rotation restrictions that might apply.
Clarity (dicamba) or 2,4-D amine. Either Clarity applied at 8 ounces per acre or 2,4-D applied at 1.0 to 1.5 pints per acre are effective treatments on most broadleaf. Risk of crop injury is an issue with Clarity or 2,4-D, and yield reduction can occur even when physical injury symptoms are minimal. To reduce the risk of crop injury, Clarity or 2,4-D should be applied after all sorghum has emerged but before the height exceeds 15 inches. Drop nozzles are recommended once sorghum exceeds a height of 8 inches. The addition of surfactants and other adjuvants with Clarity or 2,4-D is not recommended because it tends to increase crop injury. Weeds less than 4 inches tall are much easier to control than larger weeds. If dicamba drift is a concern, the new low-volatile products Engenia, FeXapan and XtendiMax are labeled for use in sorghum.
Starane Ultra. An alternative to Clarity and 2,4-D, Starane Ultra is safer to use on a sorghum crop. The product has good activity on kochia, morning glory species and a few other broadleaf weeds. Starane Ultra does not provide good pigweed control, but use of the Starane NXT formulation, which contains the addition of bromoxynil, can help with pigweed.
Huskie. This product contains the HPPD active ingredient pyrasulfotole plus bromoxynil and is one of the most effective products used in sorghum for broadleaf weed control but should be used only in areas free from HPPD-resistant weeds. Though most effective on small weeds, when necessary, growers can use Huskie as a rescue treatment on larger weeds. Growers can apply Huskie to sorghum plants up to 30 inches tall before flag leaf emergence. The addition of a low rate of atrazine plus an adjuvant provides the best control. Temporary sorghum leaf spotting and yellowing likely will occur with the use of Huskie, but sorghum typically rebounds from these injury symptoms within a few days.
Peak. This herbicide is very safe on sorghum plants up to 30 inches tall. However, Peak, a sulfonylurea herbicide, is not as effective on larger broadleaf weeds as some other products and can be especially weak on pigweed. Peak should not be used where ALS-resistant weeds are present. Typically, Peak applied in a mix with Clarity or atrazine provides better control. Crop rotation restriction to cotton or soybeans is 18 months in many regions.
Permit. For fields infested with nutsedge, Permit is a good choice. The product also is effective on cocklebur, sunflower and a few other broadleaf weeds, but Permit is not effective against pigweed. Some premixes on the market contain Permit plus Clarity or Peak to broaden the spectrum of controllable weeds.
Facet or Quinstar. Currently, no postemergence treatment effectively controls grass weeds in sorghum. Facet, or its generic counterpart Quinstar, may provide some suppression of very small annual grasses. Looking forward, a herbicide-tolerant sorghum that allows postemergence herbicide use to control grass weeds may be commercially available in 2021.
Dual Magnum, Warrant and Outlook.). Not all postemergence herbicides provide soil activity, for these products growers may want to consider adding either Dual II, Warrant or Outlook, to the mix. These products have no postemergence activity on weeds, but will provide soil activity and prevent new weeds from emerging.
For a more complete list of products, growers can view the various state extension weed control guides. Growers should always read and follow label instructions and consider regional and crop rotation restrictions when using herbicides.