East African Sorghum Bowl
https://www.sorghumcheckoff.com/recipes/east-african-sorghum-bowl/
3
people like this recipe
0
people dislike this recipe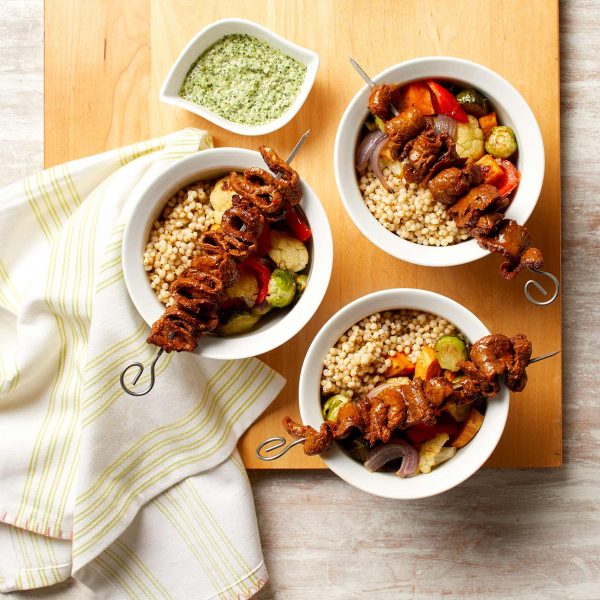 Yield
4 servings (about 2 cups sorghum and vegetables and 2 skewers)
Share This Recipe
Ingredients
Section 1
1 1/2 cups whole grain sorghum

3 cups water
Section 2
3 tablespoons olive oil

2 tablespoons lemon juice

2 tablespoons purchased Berbere spice blend*

4 cloves garlic, minced

1 pound flank steak, cut into thin strips

8 to 10 bamboo skewers
Section 3
2 cups cauliflower florets

2 cups Brussels sprouts, halved if large

2 cups peeled, cubed sweet potato

1 cup cubed sweet red bell pepper

1/2 of a medium red onion, cut into wedges

2 tablespoons olive oil

salt & pepper to taste
Section 4
1/2 cup packed fresh cilantro leaves

1/2 cup packed fresh mint leaves

3 tablespoons sweetened shredded coconut

1/2 a jalapeno pepper, seeded, chopped

1/2 cup cored, cubed Granny Smith apple (do not peel)

1/4 teaspoon ground cumin

1/2 teaspoon lemon or lime juice

Salt to taste

1 container (5.3 ounces) plain yogurt
Note
*Berbere is a blend of several dried spices including cinnamon, allspice, chile powder, paprika, tumeric, coriander, ginger, cayenne, and cardamom, as well as less common spices not readily available in North America. Look for it in specialty food stores.
Instructions
Combine sorghum and water in the Instant Pot®. Secure the lid on the pot. Close the pressure-release valve. Select manual and cook at high pressure for 20 minutes. When cooking is complete, use a natural release method to depressurize. Press cancel. Drain the sorghum in a fine-mesh strainer and set aside.

Combine olive oil, lemon juice, Berbere spice and garlic in a resealable plastic bag. Add the strips from marinade (discard marinade) and thread 2 strips onto each of the skewers. Preheat the broiler to high with a rack in the upper third.

Toss vegetables with oil, salt and pepper in a large bowl. Spread vegetables in an even layer on a baking sheet and top with the beef skewers. Broil for 8 minutes, watching closely, then stir the vegetables and turn the skewers over. Return the vegetables and skewers to the oven and roast for another 5 minutes or until vegetables are brown and tender and beef is cooked to desired doneness.


Meanwhile for the sauce, pulse the cilantro, mint, cocout and jalapeno in a food processor until minced. Add the apple, cumin, lemon juice and salt and pulse to mince. Transfer mixture to a bowl and stir in the yogurt.

To serve, divide cooked sorghum among 4 serving bowls, then top with some of the vegetables and 2 skewers. Serve skewers and vegetables with sauce on the side for dipping.