Garden Vegetable Stir-Fried Sorghum
https://www.sorghumcheckoff.com/recipes/garden-vegetable-stir-fried-sorghum/
0
people like this recipe
0
people dislike this recipe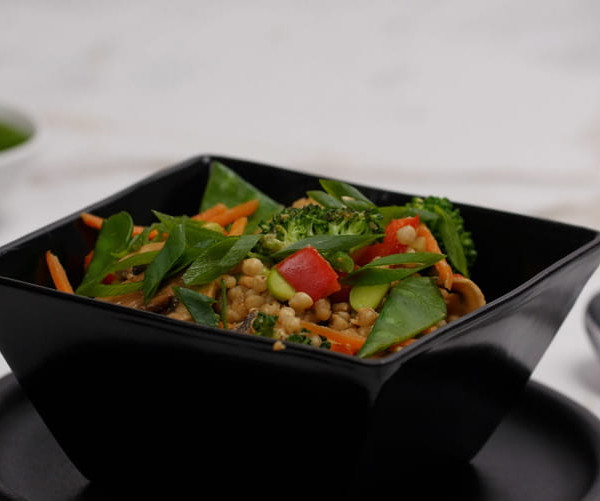 Our take on a classic Chinese one-dish meal is a delicious way to load up on vegetables and whole grains.
Recipe Developed by the American Heart Association
Share This Recipe
Ingredients
1 cup uncooked whole grain sorghum

2 teaspoons sesame oil

2 medium garlic cloves, minced or 2 teaspoons jarred minced garlic

1 teaspoon gingerroot, peeled and minced

1 cup broccoli florets, chopped, thawed if frozen

1 cup snow peas, trimmed and halved

1/2 cup carrot strips, sliced into matchstick-size

1/2 cup red bell pepper, diced

1/2 cup mushrooms, thinly sliced

1/2 cup frozen shelled edamame, thawed

2 large eggs

1 tablespoon soy sauce (lowest sodium available) and 1 tablespoon soy sauce (lowest sodium available), divided use

1/2 cup water chestnuts, rinsed and drained

1/4 cup green onions (about 2 medium), green parts only, diagonally sliced
Instructions
Prepare the sorghum using the package directions, omitting the salt. Once cooked, spread the sorghum in an even layer on a rimmed baking sheet or in a 13 x 9 x 2-inch baking dish. Let stand for 5 to 10 minutes at room temperature. Refrigerate, uncovered, for 20 minutes, or until cool.

In a large nonstick skillet, Dutch oven or wok, heat the oil over medium heat, swirling to coat the bottom. Cook the garlic and gingerroot for 30 seconds, stirring frequently. Increase the heat to medium high. Cook the broccoli, snow peas, carrots, bell pepper, mushrooms and edamame, for 10 to 12 minutes, or until the vegetables are tender-crisp, stirring frequently.

Meanwhile, in a small bowl, using a fork, beat together the eggs and 1 tablespoon soy sauce.

Reduce the heat to medium. Stir the water chestnuts and sorghum into the vegetable mixture. Push the mixture to the sides of the skillet. Pour the egg mixture into the center of the skillet. Using a heatproof rubber scraper, stir for 1 to 2 minutes, or until partially set.

Stir the vegetable mixture into the partially cooked egg mixture. Cook for 1 minute, or until the eggs are cooked through and the sorghum is heated through, stirring constantly. (The USDA recommends cooking egg dishes to 160˚F.)

Remove from the heat. Stir in the remaining 1 tablespoon soy sauce. Sprinkle with the green onions.