Roasted Asparagus with Harissa-Spiced Sorghum
https://www.sorghumcheckoff.com/recipes/roasted-asparagus-with-harissa-spiced-sorghum/
2
people like this recipe
0
people dislike this recipe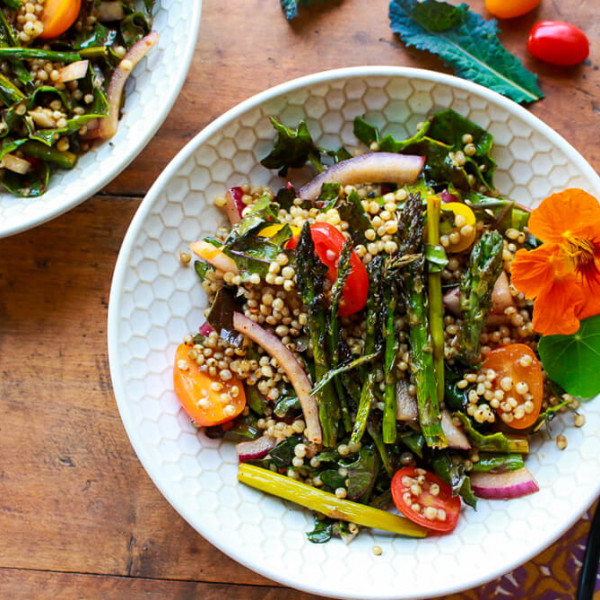 Ingredients
1 ½ cups whole grain sorghum, uncooked

5 cups vegetable broth

1 bunch fresh asparagus, ends trimmed

2 tablespoons extra virgin olive oil, divided

1 large lemon, juice and zest Salt and pepper (optional)

1 ½ teaspoons harissa spice mix (a blend of red pepper, cumin, coriander, paprika, garlic, and caraway)

2 cloves garlic, minced 1 scallion, finely diced

½ cup fresh chopped parsley

3 leaves chard, kale, or curly leaf lettuce
Instructions
Place sorghum and broth in a medium pan, cover and cook, according to package directions (adjust amount of broth according to package directions) until just tender, about 45 minutes. Remove from heat, drain off any extra liquid, place in a mixing bowl, and allow to cool slightly.

Meanwhile, heat oven to 400 F. Place asparagus in thin layer in a baking dish, drizzle with 1 tablespoon of the olive oil, and ½ of the lemon juice. May season with salt and pepper, if desired (optional). Place on top shelf and roast until golden brown (about 15 minutes). Remove from oven.

In a small dish, whisk together remaining olive oil and lemon juice, lemon zest, garlic, scallion, and parsley. Stir into the sorghum and mix well to distribute.

Line a platter with chard, kale or lettuce leaves. Pile sorghum into the leaves. Arrange the asparagus on top of the sorghum, drizzling with remaining liquid left in baking dish. Garnish with additional lemon zest and herbs, if desired. Serve warm or chill to serve cold.