Sorghum Berry Breakfast Bowl
https://www.sorghumcheckoff.com/recipes/sorghum-berry-breakfast-bowl/
0
people like this recipe
0
people dislike this recipe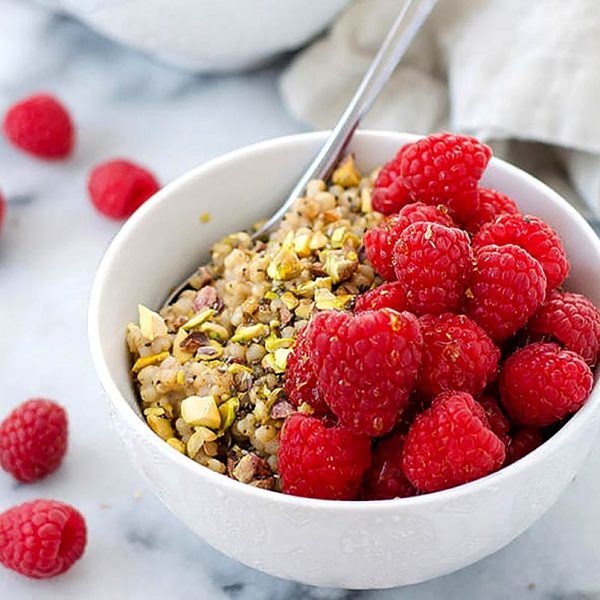 Sorghum Form
Pearled Grain, Whole Grain
To Make Overnight in Slow Cooker:
Place 1 cup uncooked sorghum, 3 cups water, 1 cup unsweetened soymilk, ½ teaspoon cinnamon, ¼ teaspoon ground cardamom, and 1 teaspoon pure vanilla extract into a slow cooker container. Stir contents well and cover with lid. Turn setting to low for 8 hours. Portion cereal into four bowls and top with maple syrup, raspberries, chopped pistachios, and chia seeds. Makes 4 servings
Recipe developed by:
Sharon Palmer, RDN, The Plant-Powered Dietitian
Share This Recipe
Ingredients
3 cups cooked whole grain sorghum (according to package directions)

1 1/4 cups unsweetened soy milk

½ teaspoon cinnamon

¼ teaspoon ground cardamom

1 teaspoon pure vanilla extract

2 tablespoons maple syrup

2 cups raspberries

1/2 cup chopped pistachios

2 tablespoons chia seeds
Instructions
Place cooked sorghum, soy milk, cinnamon and cardamom in a medium sauce pot over medium-high heat.

Bring to a boil, then reduce heat to medium and simmer for 10 minutes, stirring often, until liquid is reduced. Remove from heat and stir in vanilla extract and maple syrup.

Divide sorghum among 4 bowls and top with berries, chopped pistachios, chia seeds and additional soy milk and maple syrup, if desired.
Nutrition Facts
Calories per serving

335

Fat per serving

11g

Saturated fat per serving

1g

Unsaturated fat per serving

2g

Sodium per serving

129mg

Carbohydrates per serving

55g

Fiber per serving

8g

Sugar per serving

10g

Protein per serving

11g