Sorghum Frittatta
https://www.sorghumcheckoff.com/recipes/sorghum-frittatta/
1
people like this recipe
1
people dislike this recipe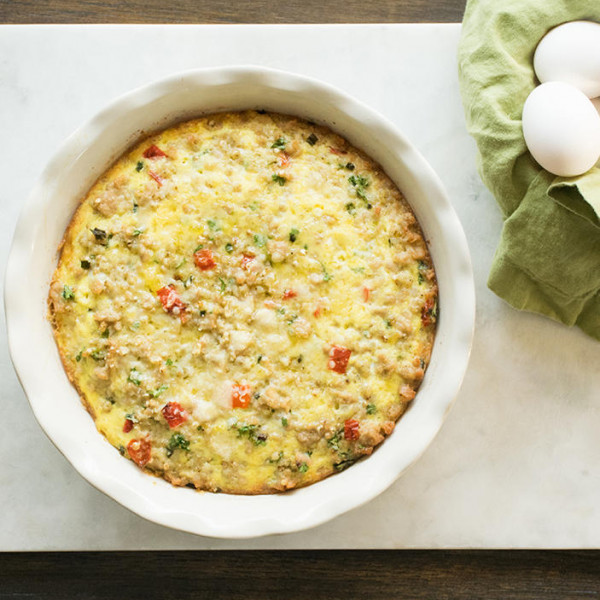 Sorghum Form
Pearled Grain
Recipe developed by:
Barbara Kliment, Executive Director-Nebraska Grain Sorghum Board
Share This Recipe
Ingredients
2 cups cooked pearled grain sorghum

1 lb. bulk ground pork, seasoned & browned

1 tablespoon extra virgin olive oil

4 green onions, thinly sliced

1/2 cup diced red bell peppers

1/4 cup chopped fresh parsley

1 teaspoon salt

1/4 teaspoon freshly ground black pepper

6 extra-large eggs

1/4 cup half and half

1/3 cup Parmesan Cheese, shredded

1/2 cup Gruyere Cheese, shredded
Instructions
Preheat oven to 350 degrees. Heat a 10-inch ovenproof, non-stick skillet (I prefer well seasoned cast iron ) over medium heat.

Add olive oil, onion and red bell pepper; cook, stirring often for about 3-4 minutes until softened. Add cooked pork and sorghum; heat through.


Meanwhile, in a large bowl, beat eggs and half and half together. Add parsley, Parmesan, salt and pepper and whisk to combine. Pour the egg mixture over the sorghum mixture and cook for 2 minutes without stirring until the edges begin to set.

Transfer the pan to the oven and bake the frittata for 15 to 20 minutes, until puffed, but barely set in the middle.

Sprinkle the Gruyere on the top and bake for another 3 to 5 minutes, until the cheese is just melted. Remove from the oven and let set for 5 minutes. Cut into 6 to 8 wedges and serve hot.

Note: Delicious served with a side salad for a light lunch or a perfect addition to a holiday breakfast buffet.