Sorghum Corn Meal Breakfast Cake
https://www.sorghumcheckoff.com/recipes/sorghum-corn-meal-breakfast-cake/
5
people like this recipe
0
people dislike this recipe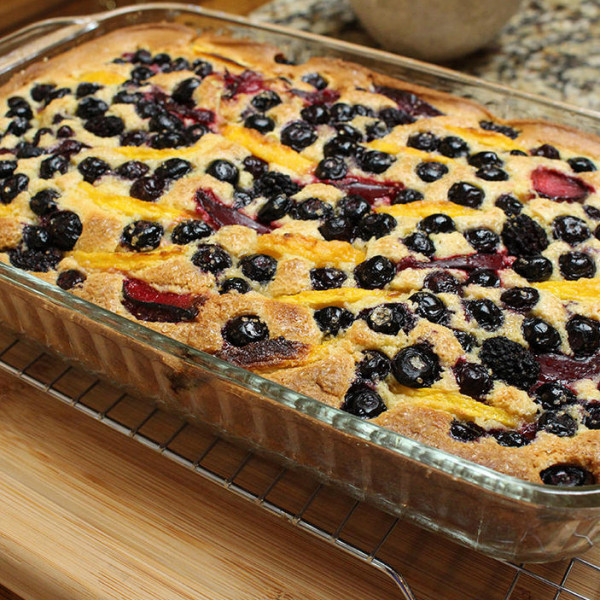 Recipe developed by:
Barbara Kliment, Executive Director-Nebraska Grain Sorghum Board
Share This Recipe
Ingredients
3/4 cup butter, softened

1 1/2 cups granulated sugar

4 large eggs

1 1/2 cups gluten-free all-purpose flour blend

1 cup fine yellow cornmeal

2 teaspoons baking powder

1 teaspoon salt

3/4 cup sour cream

1 Tablespoon orange zest plus 1/2 cup fresh juice (about 2 oranges)

2 teaspoons vanilla

1 1/2 cups fresh peaches, sliced

1 1/2 cups fresh blueberries

2 black or red plums, sliced

2 Tablespoons demerara sugar
Instructions
Preheat oven to 350 degrees F. Spray 13"x9" baking pan with cooking spray. Beat butter and sugar at medium speed until light and fluffy.

Add eggs one at a time, beating after each.

Whisk together dry ingredients in a medium bowl.

Whisk together sour cream, zest, juice and vanilla in a separate bowl.

Add flour mix to butter mix alternating with the sour cream mixture, beginning and ending with flour mix.

Beat at low speed just until blended after each addition.

Spread batter into baking pan and scatter berries and fruit on top.

Sprinkle with demerara sugar.

Bake until a wooden pick inserted in center of cake comes out clean—55 to 65 minutes.

Cool on wire rack for 20 minutes.

Cut into squares and serve warm or at room temp. May top with sorghum-sweetened whipped cream!