Strawberry Vanilla Sorghum Parfait
https://www.sorghumcheckoff.com/recipes/strawberry-vanilla-sorghum-parfait/
3
people like this recipe
0
people dislike this recipe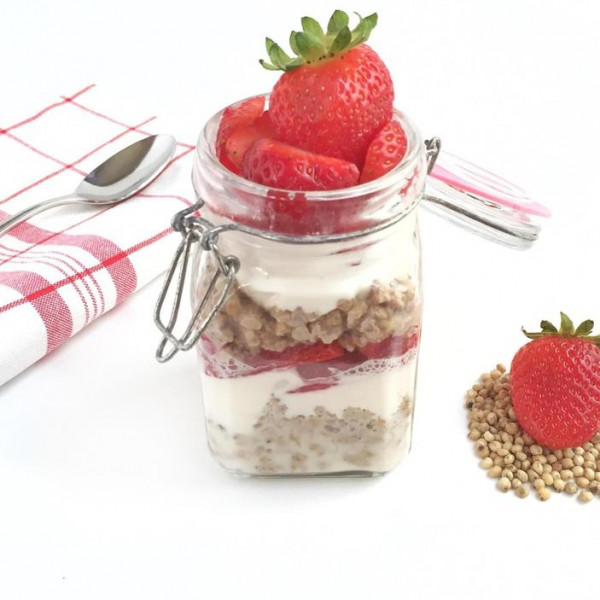 Recipe developed by:
Lauren Harris-Pincus, MS, RDN
Share This Recipe
Ingredients
1/4 cup uncooked whole grain sorghum

1 cup unsweetened soymilk

1-2 packets stevia or preferred sweetener- divided

1/4 teaspoon cinnamon

1/4 cup vanilla Greek yogurt

3/4 cup strawberries (fresh or frozen)
Instructions
Cook sorghum according to package directions using unsweetened soymilk instead of water, watching the pot carefully as it can boil over easily.

Once soymilk is mostly absorbed, remove from heat and let cool.

Stir in 1-2 packets stevia (or preferred sweetener) and cinnamon.

In a serving bowl or Mason jar add ½ of the sorghum and spread across bottom.

Add 2 tablespoons yogurt, then strawberries. Repeat layering of sorghum, yogurt and strawberries.

If you want to make the sorghum in advance, cover and refrigerate overnight. Add a splash of soymilk when ready to serve.

Either enjoy it cold or reheat prior to adding yogurt and berries.

Notes: Some sorghum varieties take longer to cook than others, look for whole grain sorghum that cooks in about 45 minutes. This recipe can be served warm or cold. To save time, prepare the sorghum the day before and refrigerate. If needed, add some additional soymilk to moisten prior to serving or heating. This recipe is also delicious with strawberries, blueberries and raspberries.