Sorghum Street Tacos
https://www.sorghumcheckoff.com/recipes/sorghum-street-tacos/
3
people like this recipe
0
people dislike this recipe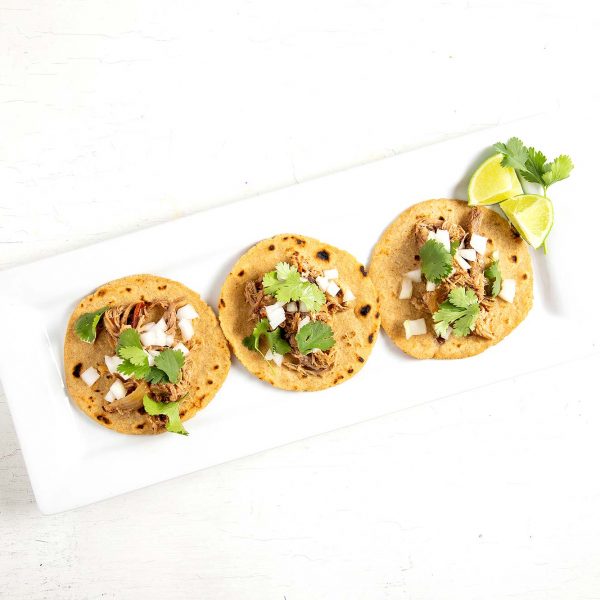 Recipe developed by:
Wayne & Cathy Cleveland
Share This Recipe
Ingredients
Pork:
1 medium sized pork Boston Butt, approximately 4lbs

3 dried chili guajillo peppers or 1 can of La Costena brand chipotle peppers in adobo sauce

1 medium onion, cut into fourths

4 cloves of garlic, peeled

3 tablespoons of cumin

1 1/2 tsp salt or to preference

1 1/2 black pepper or to preference

Water or chicken broth

1 small can of pineapple, crushed or sliced
Tortillas:
2 cups sorghum flour

1/2 can chipotles sauce, about 3 ounces

1 + 1/4 cups water

2 tsp xanthan gum
Instructions
Pork:
Cut large slits into the pork. Mix together the salt, pepper and cumin. Rub the entire roast with mixture, getting it into the slits.

Place spice-rubbed port into a slow cooker. Add onion, garlic, pineapple and chilis to the slow cooker. Fill the slow cooker with water or broth until it is half way up the sides of the pork.

Cook on low for eight hours. Or for a faster option, cook on high for about four hours.


Shred cooked pork and mix together with all ingredients from slow cooker.
Tortillas:
Combine sorghum flour and xanthan gum in a medium-sized bowl. Add chipotle sauce and mix well.

Gradually mix in one cup of water until it is the consistency of play dough. If extra water is needed, add the additional 1/4 cup water in small increments until it is the desired texture. Let the dough rest for 10 minutes.

Divide the dough into golf-ball sized pieces, approximately 18 total.

Place a thick piece of plastic, such as a plastic zip lock bag, on the base of a tortilla press. Then place a ball of dough in the press with another piece of plastic on top of the dough to help prevent the dough from sticking. Slowly flatten the dough in the tortilla press until it is approximately 1/8th of an inch thick.

Carefully remove the plastic from the top of the raw tortilla. While holding the tortilla in your hand, remove the other piece of plastic. For problems with sticking, consider spraying a small amount of Pam onto the plastic prior to placing the ball of dough to help with removal.

Upon pressing, cook each tortilla immediately on a hot griddle. Cook on each side for approximately 30 seconds, until lightly brown.

Put in foil to stay warm.