Southwest Sorghum Sliders
https://www.sorghumcheckoff.com/recipes/southwest-sorghum-sliders/
8
people like this recipe
7
people dislike this recipe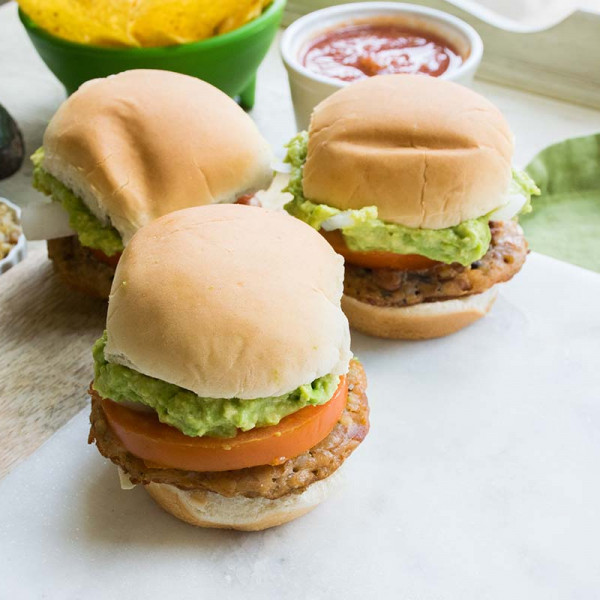 Spice up your weeknight dinner routine with our Southwest Sorghum Sliders! Packed with protein and flavor, these sliders are sure to satisfy.
Share This Recipe
Ingredients
1 teaspoon olive oil

1 cup baby Bella mushrooms, chopped

2 garlic cloves, minced

1 – 28 ounce can pinto beans

1 1/2 cup sorghum, cooked, preferably room temperature

1/2 cup salsa

1/4 - 1/3 cup chopped cilantro

2 eggs or 2 flax eggs (2 tablespoon ground flaxseed + 3 tablespoons water)

3 tablespoons sorghum flour

¼ teaspoon sea salt
Instructions
Place a sauté pan over low-medium heat, and add olive oil and garlic. Cook for 30 seconds, then add mushrooms and pinto beans. Mix together and cook for 2-3 minutes, or until soft.

When done, remove from heat and let cool.

Once cool, place the mushroom mixture into a medium sized bowl and mash with a potato masher until it reaches a smooth consistency.

Add cooked sorghum, salsa, cilantro, flax egg, sea salt and flour to the mixing bowl and stir until well combined.

Cook the patties using one of the two methods below.
Baked Slider Patties:
Line a baking sheet with parchment paper.

Use a ¼ cup measuring cup to make consistent 2 ounce patties. Shape them in your hand and place them on the baking sheet, leaving a little room in between burgers.

Bake at 400 degrees F for approximately 12 minutes then flip for another 12 minutes.
Pan-Seared Slider Patties
Refrigerate bean and sorghum mixture for about 15 minutes until the mixture is firm enough to flip.

Use a 1/4 measuring cup to make 2 ounce slider patties, flattening each one with clean hands.

If not using a non-stick pan, use 1 tablespoon oil or cooking spray. Pan sear each burger for 5 minutes on each side until browned.

Serve burgers with your favorite toppings: avocado, salsa, ketchup, lettuce, tomato, etc