Stir-Fried Thai Sorghum Bowl
https://www.sorghumcheckoff.com/recipes/stir-fried-thai-sorghum-bowl/
0
people like this recipe
2
people dislike this recipe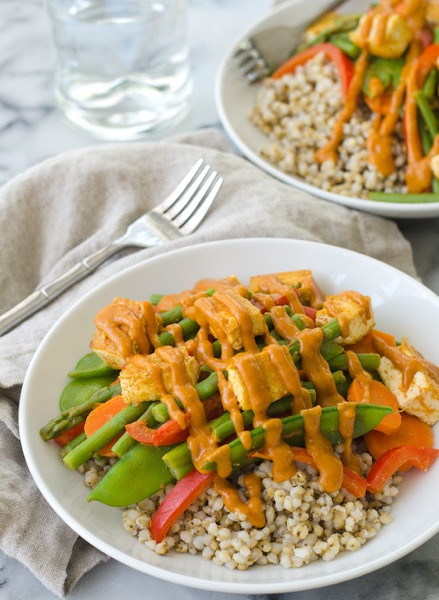 Nutrition Information per Serving:
416 calories, 17 g fat, 5 g saturated fat, 5 g polyunsaturated fat, 7 g monounsaturated fat, 0 mg cholesterol, 610 mg sodium, 738 mg potassium, 54 g carbohydrate, 5 g fiber, 7 g sugar, 20 g protein
Share This Recipe
Ingredients
4 teaspoons peanut oil, divided

2 cups chopped asparagus spears

2 carrots, peeled and sliced

1 tablespoon grated ginger

2 garlic cloves, minced

1 tablespoon water

1 red bell pepper, cored and sliced

1 1/2 cups sliced snow peas

1 tablespoon low-sodium soy sauce

1 (15-ounce) package extra-firm tofu, pressed for 30 minutes and cut into 1-inch cubes

2 cups cooked sorghum (according to package directions)
Thai Sauce
1 cup light canned coconut milk

1 tablespoon Thai red curry paste

1/3 cup creamy peanut butter

1 tablespoon low-sodium soy sauce

2 1/2 tablespoons maple syrup

1 garlic clove, minced

2 teaspoons minced fresh ginger 1 teaspoon corn starch
Instructions
To make sorghum bowl, heat 2 teaspoons peanut oil in a large non-stick skillet or wok over medium-high heat. Add the asparagus, carrots, ginger and garlic and stir fry for 1 minute. Add the water to the skillet and cover; let the vegetables steam for about 2 minutes, until bright and tender.

Add the red pepper, snow peas and soy sauce to the skillet. Cook, stirring constantly, 3-4 minutes more, or until all the vegetables are tender-crisp. Remove the vegetables and wipe skillet clean with a paper towel.

Return skillet to medium-heat heat. Add the remaining peanut oil and swirl to coat, then add the tofu. Cook until lightly browned and crisp on all sides, turning occasionally, 5 minutes.

Whisk together all of the ingredients for the Thai sauce then pour over the tofu. Cook for 4-5 minutes until until sauce has thickened and tofu is coated. Add back in the vegetables and toss once more to coat.

Divide the cooked sorghum among 4 bowls and top with the vegetables and tofu.