International Grain Buyers From Eight Countries Attend Export Sorghum 2019
Sorghum Stories

Last week, the United Sorghum Checkoff Program held its third consecutive Export Sorghum conference in Grapevine, Texas. The event, in coordination with the U.S. Grains Council (USGC), Kansas Grain Sorghum Commission and Texas Grain Sorghum Producers Board, hosted international grain buyers from eight countries who are currently purchasing or are interested in U.S. grain sorghum.
"The Sorghum Checkoff was pleased to once again host Export Sorghum and provide resources to our growers, customers and other industry representatives," said Florentino Lopez, Sorghum Checkoff executive director. "Attendee numbers this year exploded, and we are excited to see so much growth and enthusiasm surrounding U.S. sorghum."
The Sorghum Checkoff is taking innovative approaches to create and establish new opportunities to educate sorghum customers through events like Export Sorghum in order to reach new horizons in market development and promotion.
The conference is centered around creating networking opportunities while providing both domestic and international grain buyers insight on sorghum markets, trade opportunities, contract education, logistics and sorghum production. Export Sorghum is a one-of-a-kind event solely focused on providing buyers with information to help them make sorghum the smart choice for their feed or food grain solutions.
A Japanese team solely focused on using sorghum for human consumption was in attendance and were able to sample a sorghum dish prepared by registered dietitian nutritionist, Sharon Palmer.
"This experience of tasting sorghum and learning how to prepare it greatly increases buyer confidence and we have seen increased interest in sorghum for specialty markets such as consumer food in foreign markets like Japan," said Doug Bice, Sorghum Checkoff market development director.
Participants were able to sample a sorghum dish prepared by registered dietitian nutritionist, Sharon Palmer.
In addition to a sorghum cooking demonstration, three animal nutritionists, a sorghum geneticist and the CEO of an ethanol plant discussed the various uses of sorghum for animal feed, pet food and ethanol production.
"One of our main goals at Export Sorghum is to showcase the versatility of sorghum across different marketplaces and applications," said Shelee Padgett, Sorghum Checkoff regional director. "We also want to provide value by creating an avenue for farmers, buyers and sellers to have one-on-one conversations and establish working relationships."
The inaugural Export Sorghum, founded in 2014 by the Sorghum Checkoff, was held in Houston, Texas, and brought together the entire sorghum value-chain with customers from Mexico, Japan and the U.S. The Texas Grain Sorghum Producers Board sponsored the inaugural event and has provided ongoing support as international markets are critical to many Texas growers.
The second Export Sorghum, held in 2015, saw attendance grow to 23 international buyers from Mexico, Japan, China, Spain and the U.S. In 2016, a condensed version of Export Sorghum was held in Panama City, Panama, with attendees from Mexico, Central American and South America.
This year, Export Sorghum attendees more than doubled, totalling 65 participants from eight countries, including China, Mexico, Myanmar, Philippines, Morocco, Kingdom of Saudi Arabia, Japan and the U.S.
"Recently, the Sorghum Checkoff board of directors adopted a new strategic plan with a heavier focus on market development, so we followed their lead and brought in a more diverse group of buyers to Export Sorghum this year," Bice said.
With the help of sponsors like the U.S. Grains Council, Texas Grain Sorghum Producers Board and Kansas Grain Sorghum Commission, several teams toured parts of the U.S. to experience sorghum production and the value chain firsthand prior to and following the conference.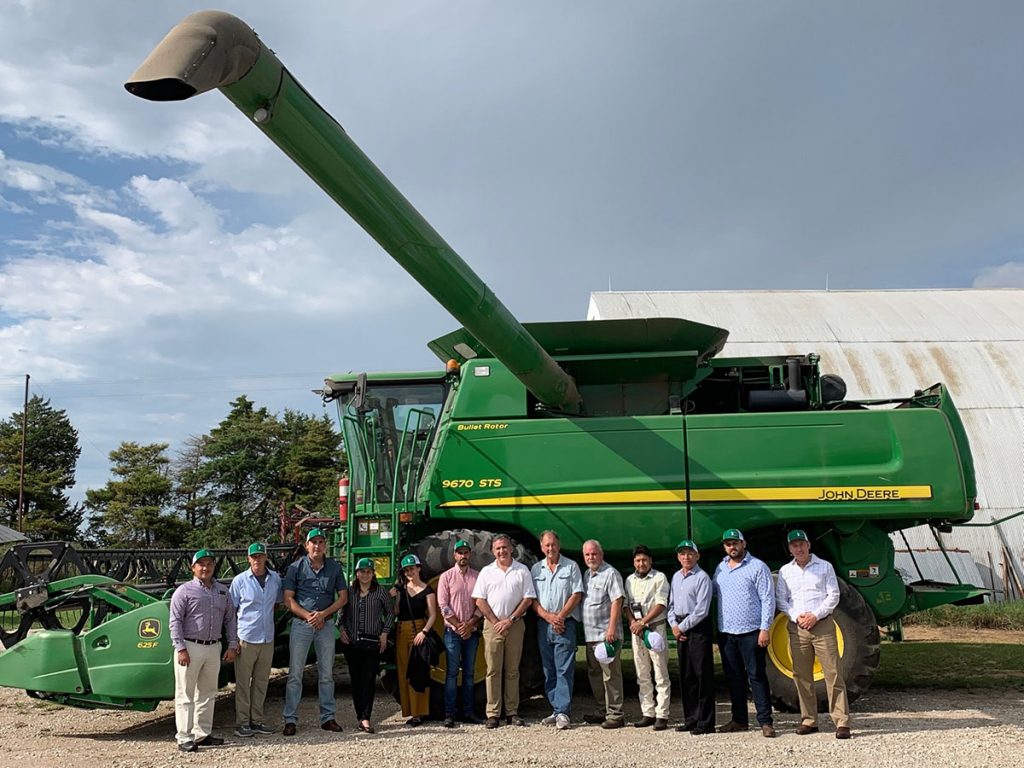 The Sorghum Checkoff is, and always has been, dedicated to building strong relationships between buyers and sellers, resulting in continued sorghum sales around the world. Export Sorghum is one opportunity to promote and improve demand for U.S. sorghum, strengthening markets for U.S. sorghum farmers.
Innovation and forward thinking are critical to sorghum farmers, which spurred the creation of Export Sorghum by the Sorghum Checkoff. Continued change to marketplace philosophies and value propositions remain on the forefront of the organization.
The Sorghum Checkoff's developmental work in international markets like aquaculture, baijiu (a traditional Chinese spirit) and pet food are just some of the areas the Sorghum Checkoff is leading.