Matthew Winters – Farming with a Family Heritage
Sorghum Stories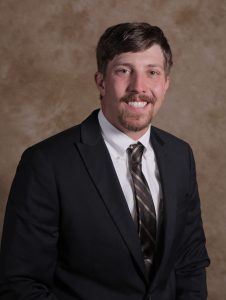 Matthew Winters is a fourth generation farmer who grew up in Canyon, Texas. His agricultural roots began at a young age as both his mother's and father's families were involved in farming during his childhood. Sorghum, wheat and corn are crops both sides of his family farmed in their operations, which inspired Matthew to continue a career in production agriculture.
Winters attended West Texas A&M University to pursue a bachelor's degree in animal science, and today he resides in his hometown of Canyon with his wife Christina and their three-year-old daughter, Kinsley. After college, he returned to his farming roots in the Texas panhandle and began farming sorghum, wheat, corn and cotton. Winters also runs a cow-calf operation. Winters uses the crops he grows to feed his cattle in an effort to become more self-sustaining and believes sorghum is the perfect fit for his operation.
"It fits well with the amount of rainfall we receive in our area," Winters said. "No matter what kind of year you have, it almost always yields well."
Because of his success in growing the crop, Winters decided to apply for Leadership Sorghum Class IV to expand his knowledge.
Participating in the Leadership Sorghum program has opened Winter's eyes to different aspects of the sorghum and agriculture industries. From learning about how different organizations come together to improve markets to learning about the policies and legislation affecting the industry, Winters said he gained new insight into the work done to promote U.S. sorghum.
"During session four in New Orleans, we listened to a presentation given by John Duff, National Sorghum Producers Strategic Business Director, over the legal team put together to address the China tariffs," Winters said. "In my opinion, the team did a phenomenal job representing farmers in mitigating tariffs so sorghum exports could continue to China."
Winters also shared a personal goal he had while participating in the program. In session three, members of the program traveled to Washington, D.C., to learn about the government's involvement in sorghum, checkoffs and stakeholder groups. Winters hoped to use this opportunity to keep the farmer's viewpoint alive.
"One specific part about the program that impacted me was the trip we took to Washington, D.C.," Winters said. "We were able to talk face to face with our representatives. My hope from this experience is that we told our story to our representatives so they can put a name with a face for each farmer they met."
The impact Leadership Sorghum has had on Winters leads him to encourage others who are on the fence about applying for the program.
"Do not hesitate," Winters said. "By traveling across the country, you gain insight on the research being conducted. The personal and professional relationships you obtain combined with knowledge you gain changes your perspective in a positive way."
Farming is the livelihood of many people Winters met during the program. However, one aspect he holds near to his heart is that farming is a part of his family heritage. As a fourth generation farmer, he understands the value his operation provides to the lives of many. Winters said his biggest accomplishment is continuing the tradition of farming with his family.
"There is no one that can take the place of the American farmer and what we do," Winters said. "It is my hope my children and their future families will be willing to take on the task of being a farmer."
Winters learned how to farm from his father, David Winters, and considers him to be his mentor in life. Winters said he owes his passion for serving the agricultural industry to him. His father's goal-oriented mindset and steadfast personality is what he admires most about him.
"My dad has pushed me to become the person and farmer I am today," Winters said. "It is a very big blessing to be able to farm as a family."
Equipment: Red
Tractor tunes: Texas Country and 80's rock
Favorite Season on the Farm: Planting crops and watching them grow
Favorite part of Farming: Every day is different. I enjoy just being the farmer who provides for others.
Hobbies: Welding and building things around the farm, as well as traveling with his family.
Matthew is a member of Leadership Sorghum Class IV, a program designed to foster the next generation of sorghum leaders. The program exposes members to various aspects of the sorghum industry from basic and applied research to international marketing. Through both hands-on and classroom-style education, participants gain an understanding of how sorghum moves through the value chain, how checkoffs and interest organizations interact on behalf of the industry and what the future holds for the crop. The program also provides professional development training and networking opportunities.