Producer Profile: Kent Winter
Sorghum Stories
By Samantha Barnett, Sorghum Checkoff Communications Intern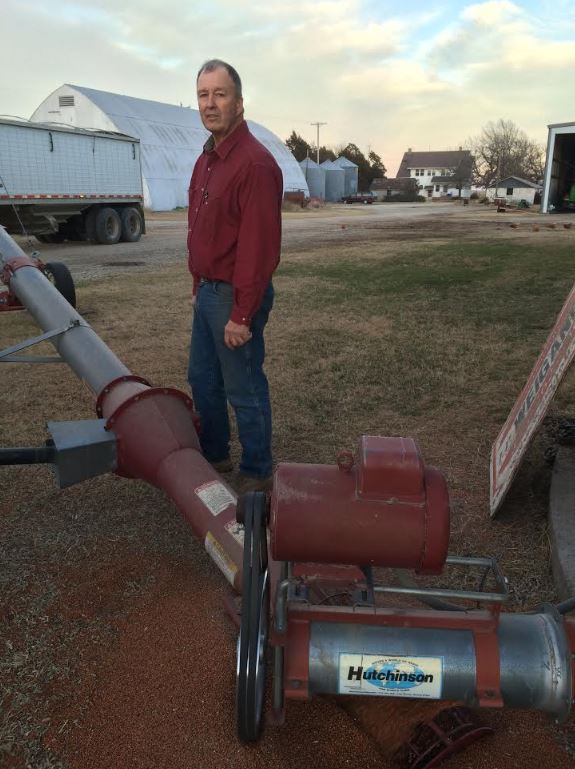 In the early 1890s, Kansas Grain Sorghum Producers Association President and National Sorghum Producers legislative committee member Kent Winter's family began farming 20 miles outside of Wichita, Kansas. In the operation's early days, the main commodities were wheat, alfalfa and feeder lambs. Grain sorghum was added in the 1950s by Winter's father and has been an integral part of the operation ever since. As generations passed the land down, the operation began to diversify even more.
The land has been passed down four generations to date, making Winter the fifth generation to cultivate the land. Today, Winter farms 1,600 acres of primarily dryland production. With the help of his youngest daughter and wife, the family typically grows 800 acres of wheat, 100 acres of alfalfa and splits the remaining acreage among grain sorghum, corn and soybeans. He currently has 300 acres of grain sorghum planted.
"I like to think of my operation as a football team," Winter said. "Just as each player has a role to play on the team, each crop has a role to play on my operation."
After graduating high school, Winter attended Kansas State University where he earned a bachelor's degree in agronomy and a master's degree in soil fertility. Having an agronomic background with a strong emphasis on soil health has helped Winter to maximize his operation's output and profitability.
Winter uses conservation tillage on his full season grain sorghum acres and no-till double crops grain sorghum directly into standing wheat stubble. To further strengthen his sustainability efforts, he practices a split application of fertilizer—using Nitrogen once before planting and once during the growing season— and a precision agriculture technique called grid soil sampling.
"Farmers are always trying to find the balance between expenses and doing the right thing," Winter said.
His 2020 grain sorghum crop is off to a promising start. He planted into a full moisture profile, but he has not been exempt from the drought pressures facing south central Kansas. Now that his grain sorghum acres are approaching the critical pollination period, rainfall would allow for his crop to reach its full quality and bushel potential. With rain in the forecast across parts of Kansas at the time this profile was written, he is hopeful that his crop's moisture needs will be met.
Winter projects his crop could yield 125 bushels per acre, meaning that his sorghum has the potential to yield 37,500 bushels assuming those acres receive timely precipitation.
"Sorghum is key to our operation," Winter said. "It plays a really important role for us."
Winter recognizes the importance of international end users and values the relationships Team Sorghum has worked to culminate. Amidst the COVID-19 pandemic, he emphasizes the importance of staying connected with buyers around the globe to continue advocating for U.S. sorghum.
In the past, Winter hosted a trade team from Mexico and Peru on his operation. He enjoyed the experience, the people and their genuine interests in American agricultural production systems. In the future, he is open to hosting more trade teams from different parts of the world.
In the virtual age, he said, it is easy to lose sight of how valuable it is to have face-to-face interactions. Winter welcomes the opportunity to build relationships with international end users in person once it is safe to do so.
"We as American producers are driven to produce high quality grain to meet the expectations of foreign buyers overseas," Winter said.