Beet Sorghum Risotto
https://www.sorghumcheckoff.com/recipes/beet-sorghum-risotto/
0
people like this recipe
0
people dislike this recipe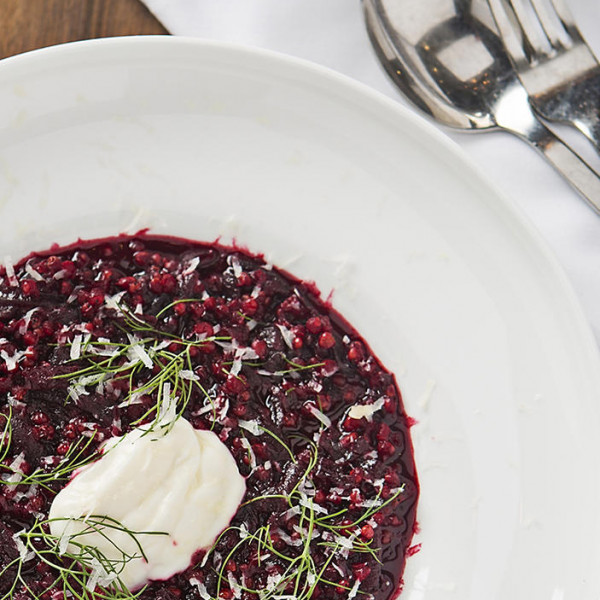 Sorghum Form
Pearled Grain, Whole Grain
Share This Recipe
Ingredients
2 cups cooked sorghum grain, prepared according to package directions

1 tablespoon olive oil

½ teaspoon fennel seeds

½ fresh fennel, chopped

4 cups beet juice

2 tablespoons butter

2 large roasted beets, peeled, grated on a large hole box grater

2 tablespoons fresh dill, roughly chopped

¼ lemon wedge

Kosher salt

Freshly ground black pepper

½ cup sour cream

1 tablespoon prepared horseradish

1 piece fresh horseradish
Instructions
Heat the oil in a saucepan; add the fennel seeds and fennel, stirring over low heat until fragrant. Add the beet juice and reduce by half. Strain.

Place the strained beet juice in a sauté pan, add the grain, stirring until almost completely absorbed. Spoon in the butter and beets. Season and fold in the fresh dill, squeeze in the lemon and season to taste.

In a small bowl, combine the sour cream and prepared horseradish, season with salt. Top the risotto with the sour cream.

Using a microplane, grate the horseradish over the whole dish and garnish with fresh picked dill.