Berry and Kale Sorghum Salad
https://www.sorghumcheckoff.com/recipes/berry-and-kale-sorghum-salad/
1
people like this recipe
0
people dislike this recipe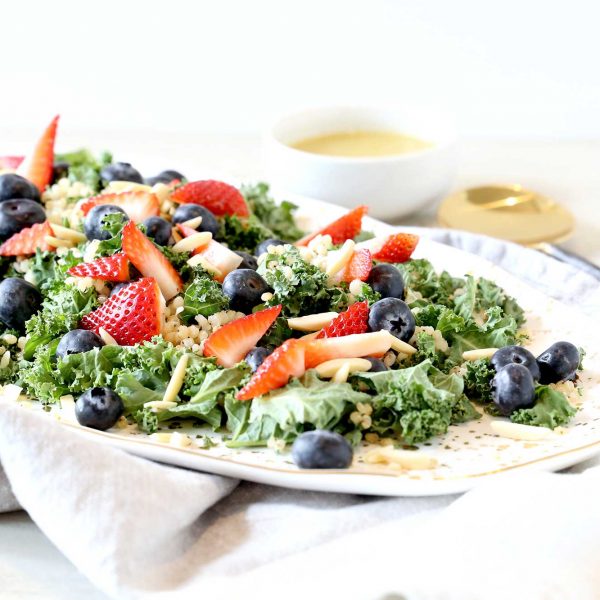 Sorghum Form
Syrup, Whole Grain
To save on time, pre-cook the sorghum, as it can be refigerated for 5-7 days. Reheat cooked sorghum on the stovetop or in the microwave, and add some olive oil or butter if the grain is a bit dry. Fluff the sorghum with a fork, let cool completely, then add it to the bowl of kale.
Recipe developed by:
Triad to Wellness
Share This Recipe
Ingredients
Salad
6 cups kale, finely chopped

1 cup slivered almonds

1 cup strawberries, sliced

3/4 cup blueberries

1 cup whole grain sorghum, cooked

Mint to garnish
Dressing
1/3 cup olive oil

2 1/2 tablespoons lemon juice

2 1/2 tablespoons apple ciser vinegar

1 tablespoon dijon mustard

1 teaspoon sorghum syrup, or honey

1/4 teaspoon

1/2 teaspoon

1 clove garlic, minced
Instructions
Salad
In a large bowl, combine kale, almonds, strawberries, and blueberries. Gently combine, and set aside.
Dressing
In a small bowl, whisk together the olive oil, lemon juice, apple cider vinegar, Dijon mustard, sorghum syrup, sea salt, ground pepper, and garlic.
To Serve
Add sorghum to the kale mixture, combine well, and drizzel the dressing over top. Sprinkle with mint, if desired. Serve immediately.
Nutrition Facts
Serving size

1.5 cups

Calories per serving

390

Fat per serving

23g

Sodium per serving

195mg

Carbohydrates per serving

40g

Fiber per serving

9g

Sugar per serving

6g

Protein per serving

10g