Sorghum Salad with Green Chickpeas and Masala Spice
https://www.sorghumcheckoff.com/recipes/sorghum-salad-with-green-chickpeas-and-masala-spice/
2
people like this recipe
0
people dislike this recipe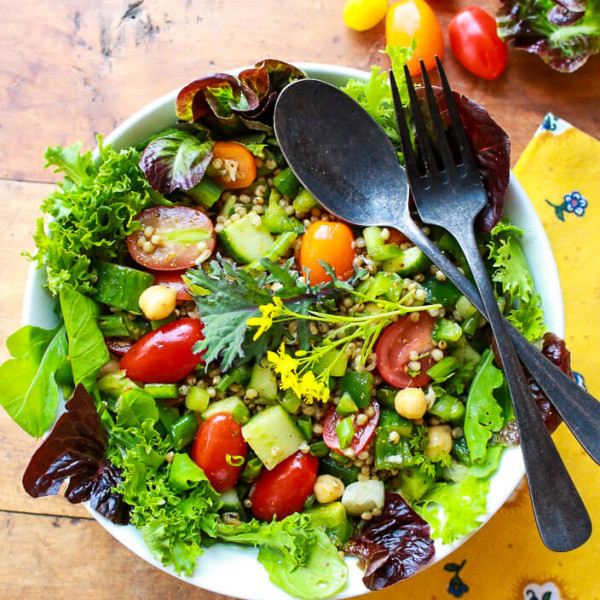 Ingredients
4 cups baby red spinach leaves (may substitute with other baby leaves, such as spinach, kale or arugula)

1 cup frozen green chickpeas

4 cups cooked sorghum, cooled (per package directions)

1 bell pepper (green, yellow, red or purple), diced

3 green onions, diced ½ cup fresh cilantro, chopped

1 small Persian cucumber, chopped

1 cup heirloom cherry tomatoes (yellow or red)

2 tablespoons EVOO

1 large lemon, juiced

2 cloves garlic, minced

1 tablespoon (plus more for garnish) Tikka Masala spice blend (available at spice shops or online, may use equal parts coriander, cumin, garlic powder, paprika, garam masala, and dried mint, ginger, and chili powder)

Sea salt (optional)
Instructions
Line a platter with baby spinach leaves.

Place frozen green chickpeas in a medium pot and boil for 3-5 minutes, just until tender. Drain and cool.

In a large bowl, add cooled chickpeas, sorghum, bell pepper, green onions, cilantro, cucumber and tomatoes. Toss together.

In a small dish, whisk together EVOO, lemon juice, garlic, and Tikka Masala spice blend. May add a pinch of sea salt, if desired.

Toss dressing into the sorghum mixture and combine well.

Arrange sorghum salad mixture on top of spinach-lined platter. Garnish with additional dusting of Tikka Masala spice blend, if desired.

Serve immediately or chill until serving time.