Black Bean Sorghum Chili
https://www.sorghumcheckoff.com/recipes/black-bean-sorghum-chili/
1
people like this recipe
0
people dislike this recipe
*Refrigerate in a sealed container for 1 week or freeze in a labeled, sealed container for up to 3 months.
*Optional: Serve chili with sour cream, yogurt, skyr or salsa.
Recipe developed by:
Triad to Wellness
Share This Recipe
Ingredients
1 tbsp olive oil

1 onion, diced

2 large red bell peppers, diced

1 cup carrots, diced

1 poblano chili pepper, diced

3 garlic cloves

1-2 tsp ground cumin

1/4-1/2 tsp smoked paprika

1-2 tsp chili powder

1/4 tsp sea salt

1 (28 ounce) can diced tomatoes, no salt added

1 cup vegetable broth

2 cups water

1 cup whole grain sorghum

1/2 cup corn, frozen

1 (28 ounce) can black beans

1 lime, juiced

1 tbsp red wine vinegar

1/3 cup cilantro, chopped

1 large avocado, sliced
Instructions
In a medium saute pan, add olive oil and sauté onions over medium-high heat until they are translucent.

Add red bell pepper, carrots, poblano chili pepper & garlic cloves. Saute for about 2 minutes. Add cumin, smoked paprika, chili powder, and sea salt, and stir together well. Transfer mixture to slow cooker.

Add tomatoes, vegetable broth, water, sorghum, corn and black beans to the slow cooker. Cover and cook for 3-4 hours on high or 8 hours on low until the sorghum is soft. Timing may vary depending on the slow cooker.

Once the chili is cooked, add the lime juice and red wine vinegar, and sprinkle with cilantro. Top with avocado slices.

Serve hot.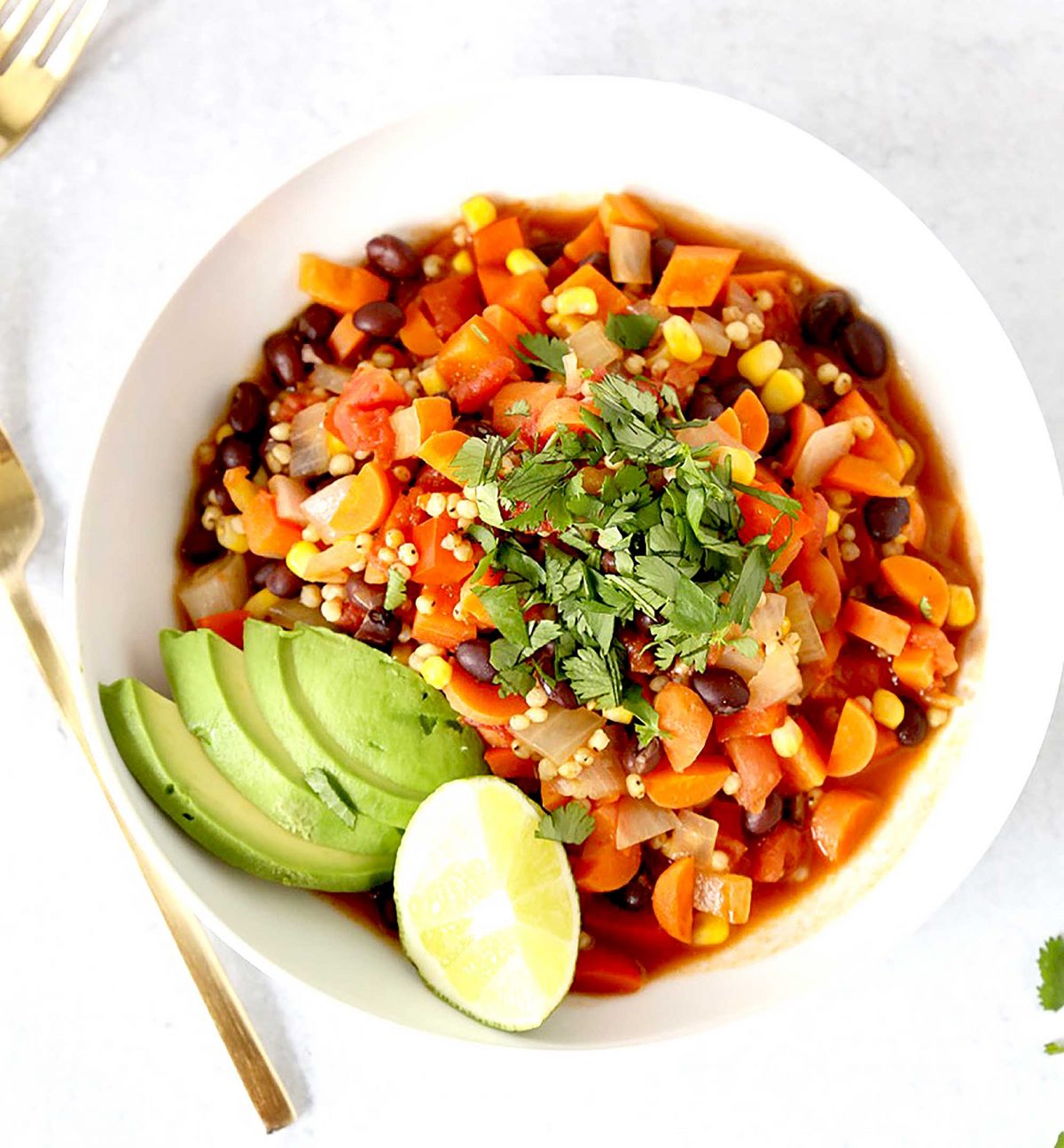 Nutrition Facts
Serving size

2 cups

Calories per serving

415

Fat per serving

9g

Saturated fat per serving

1g

Sodium per serving

235mg

Carbohydrates per serving

70g

Fiber per serving

17g

Sugar per serving

8g

Protein per serving

15g