Coconut Fresh Fruit Taco Thins with Lime CocoWhip
https://www.sorghumcheckoff.com/recipes/coconut-fresh-fruit-taco-thins-with-lime-cocowhip/
0
people like this recipe
0
people dislike this recipe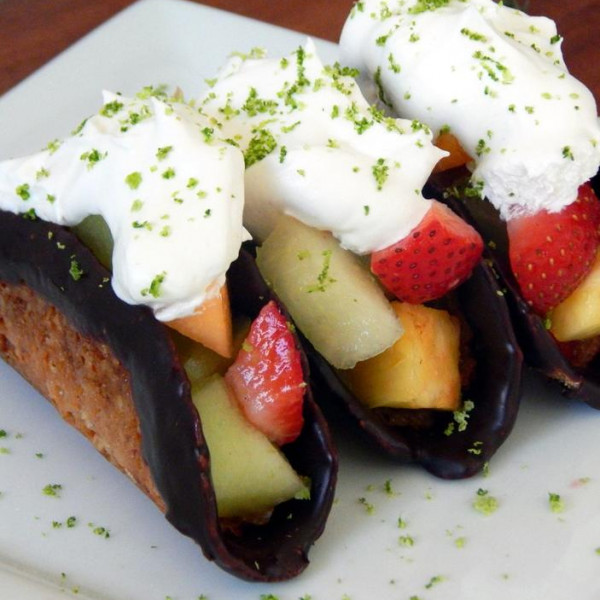 Ingredients
Taco Thins
1/4 cup Earth Balance Buttery Sticks (softened at room temperature)

1/3 cup granulated sugar

2 tablespoons honey

1/4 cup sorghum flour (you can use an equal amount of all purpose flour as well)

1/2 cup finely shredded, unsweetened coconut
Ganache
1/2 cup So Delicious Culinary Lite Coconut Milk

1 1/2 tablespoons fresh lime juice

1 cup dairy free chocolate chips
Fruit
2 cups assorted diced fresh fruit (an assortment of strawberries, cantaloupe, honeydew, grapes, and pineapple)
Topping
1 cup So Delicious Light CocoWhip

1/2 tablespoon fresh lime zest
Instructions
Preheat the oven to 350 degrees. Line a large stainless steel baking sheet with silpat or parchment paper. Set aside.

Place the Earth Balance, sugar, and honey into a small saucepan. Heat over low heat until the buttery sticks are melted. Whisk together. Increase the heat a bit to allow the mixture to bubble up along the edges. At this point, whisk almost continually for 1-2 minutes to allow the mixture to thicken slightly. You know the mixture is done when it begins to stick to the edge of the pan. Turn off the heat. Add in the shredded coconut and sorghum flour. Stir together until combined.

Using a spring loaded tablespoon size scooper, scoop out dough (leveling it off with a butter knife). Place the dough onto the prepared baking sheet. Each should be 3 inches apart.

Bake for 8-9 minutes. The dough will completely flatten during the last few minutes of cooking. The cookies are done when the entire cookie (especially the center) is golden brown. Remove the baking sheet from the oven and allow the cookies to cool for 2-3 minutes on the tray.

Have a rolling pin or a wooden spoon handle measuring 1″ in diameter ready for use. Using a thin, metal spatula, carefully lift the cookie from the tray and drape it over the rolling pin. Allow the cookie to hang in place for a minute to harden. Transfer to a cooling rack. Please note: if the cookie begins to scrunch up and gather when trying to lift it off of the baking sheet, you should allow it to rest for another minute and attempt again.

Place the culinary coconut milk into a small saucepan. Bring to a simmer. Turn off the heat. Stir in the lime juice and chocolate chips. Stir constantly until all of the chocolate is melted and a silky ganache has formed.

Invert a standard size muffin tin and set aside. Take each cooled thin taco and dip the edges in the ganache. Place in the grooves of the inverted muffin tin. When all the taco shells are completed, place the tin in the refrigerator for 30 minutes to allow to set.

Stir the lime zest into the CocoWhip. Remove the taco shells from the refrigerator. Fill with the fresh fruit mixture. Top with a dollop of lime CocoWhip. Place the remaining chocolate ganache in a bowl to allow people the opportunity to drizzle more ganache on their taco.