Date Nut Granola Bars
https://www.sorghumcheckoff.com/recipes/date-nut-granola-bars/
0
people like this recipe
0
people dislike this recipe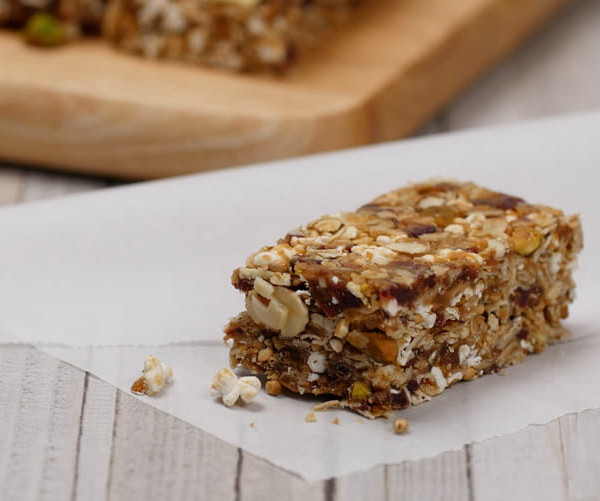 These sweet, chewy granola bars are a perfect go-to snack to enjoy all week long. Popped sorghum adds a surprise ingredient that provides crunchiness. Dry-roasting the oats and nuts give these bars a delicious, toasted flavor.
Recipe Developed by the American Heart Association
Share This Recipe
Ingredients
Cooking spray

1 1/2 cups rolled oats (not quick cooking)

1/4 cup almond slices or whole almonds, coarsely chopped

1/4 cup shelled pistachio nuts, coarsely chopped

1 cup pitted dates

1/2 cup unsweetened dried cranberries

1/4 cup uncooked whole grain sorghum

1/4 cup honey

1/4 cup low-sodium peanut butter

1 teaspoon vanilla extract

1/8 teaspoon salt
Instructions
Preheat the oven to 350˚F.

Line the bottom and sides of an 8-inch square baking pan with plastic wrap or parchment paper. Lightly spray with cooking spray.

Put the oats, almonds and pistachios on a large baking sheet. Spread them in a single layer. Bake for 10 to 15 minutes, or until lightly brown, stirring occasionally. (Watch carefully so they don't burn.) Let cool slightly.

In a food processor or blender, process the dates and cranberries for 1 to 1½ minutes, or until chopped and a clumpy consistency. Transfer to a large bowl.

Put half the sorghum in a silicone microwave popcorn bowl or a clean, brown paper lunch bag. If using a microwave popcorn bowl, put on its cover. If using a paper bag, roll it shut and place it in the microwave, with fold facing down. Microwave on 100% (high) for 2 minutes, or until there is more than 10 seconds between pops. Repeat with the remaining half, microwaving for 1½ minutes, or until there is more than 10 seconds between pops. (If some of the sorghum didn't pop, you can still include it into the mixture for some extra crunch.)

Stir the popped sorghum, oats, almonds and pistachios into the date mixture.

In a small saucepan, heat the honey and peanut butter over low heat for 5 minutes, or until the peanut butter is smooth and the mixture is warmed, stirring occasionally. Remove from the heat. Stir in the vanilla and salt.

Pour over the date mixture, stirring to break up into small clumps. Transfer half to the baking pan. Using the bottom of a drinking glass or your fingers lightly sprayed with cooking spray, press down firmly to flatten and pack tightly. Repeat with the remaining half. Put in the freezer, covered, for about 1 hour, to firm up.

Place a cutting board over the pan. Turn the pan over. Discard the plastic wrap. Using a knife, cut into 12 bars. Store leftovers in an airtight container in the refrigerator for up to one week.