Moroccan Chickpea Sorghum Bowl
https://www.sorghumcheckoff.com/recipes/moroccan-chickpea-sorghum-bowl/
6
people like this recipe
0
people dislike this recipe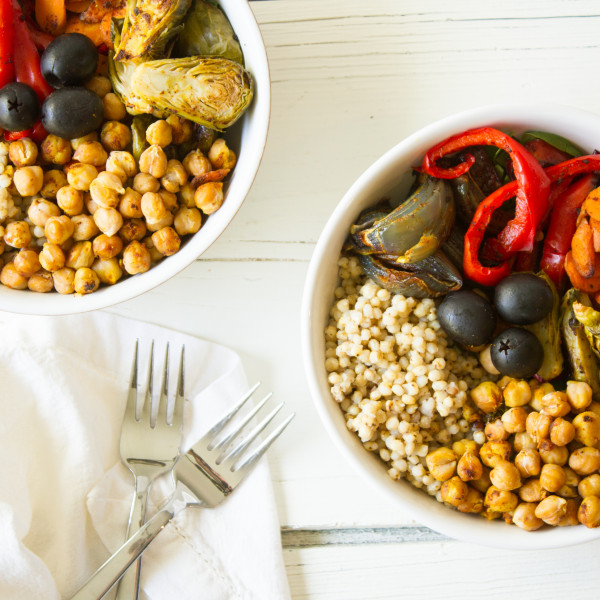 Ingredients
2 cups cooked whole grain sorghum

1 medium red onion, sliced into thin wedges

1 medium red bell pepper, sliced into thin strips

3 small carrots (red, purple, orange, yellow, or white), sliced

8 ounces Brussels sprouts, sliced in half vertically

1 15-ounce can chickpeas, rinsed, drained

2 tablespoons extra virgin olive oil

¼ cup fresh lemon juice

1 ½ tablespoons ras el hanout (Moroccan spice blend)

2 garlic cloves, minced

Pinch salt (optional)

2 cups chopped greens (i.e., kale, spinach, arugula leaves)

12 black olives (i.e., Kalamata, Picholine, Nicoise), rinsed, drained
Instructions
Cook sorghum according to package directions.

While sorghum is cooking, preheat oven to 375 F.

Arrange rows of sliced red onions, sliced red bell pepper, sliced carrots, halved Brussels sprouts, and chickpeas on a baking sheet.

Make the vinaigrette by whisking together olive oil, lemon juice, ras el hanout, garlic, and salt (optional) in a small dish.

Drizzle the vinaigrette evenly over the vegetables and chickpeas in the baking sheet.

Place on the top rack of the oven and roast for about 45 minutes, until vegetables are tender and golden brown.

Remove vegetables from oven.

To make each large individual bowl (makes 4 bowls): In each bowl, arrange ½ cup cooked sorghum on one side, and ½ cup greens on the other side. On each bowl, arrange on top of the sorghum and greens the following: ¼ of the onions, ¼ of the bell pepper, ¼ of the carrots, ¼ of the Brussels sprouts, ¼ of the chickpeas, and 3 black olives.

Serve!