Pancakes with Blueberry Vanilla Sauce
https://www.sorghumcheckoff.com/recipes/pancakes-with-blueberry-vanilla-sauce/
0
people like this recipe
0
people dislike this recipe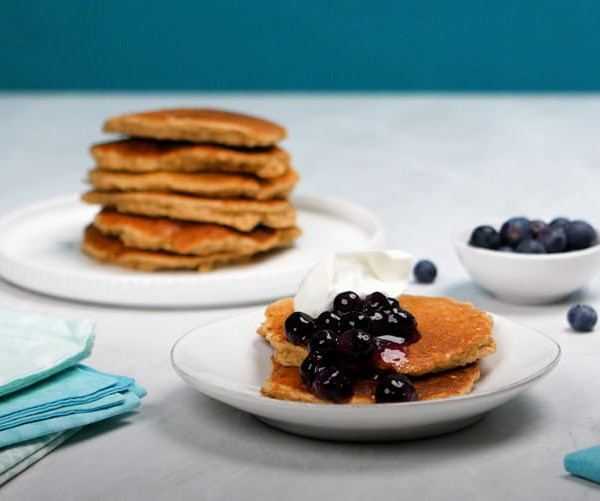 Whole grain sorghum flour — ground from 100% whole grain sorghum — is gluten-free. It's a great choice for baked goods and breakfast dishes like pancakes and muffins.
Recipe created and developed by the American Heart Association
Share This Recipe
Ingredients
Sauce
2 teaspoons cornstarch

1/3 cup water

1 cup blueberries

1 tablespoon sugar

1 1/2 teaspoons vanilla extract
Pancakes
1/2 cup quick-cooking rolled oats

1/2 cup whole grain sorghum flour

1 1/2 tablespoons firmly packed light brown sugar

1 1/2 teaspoons baking powder

1/2 teaspoon ground cinnamon

1/2 cup fat-free milk

1/2 cup unsweetened applesauce

1 large egg

1 tablespoon canola or corn oil

1/2 cup fat-free, plain Greek yogurt
Instructions
If your griddle isn't large enough to cook 8 pancakes, preheat the oven to 200˚F. Place a cooling rack on a baking sheet. Set aside.

Put the cornstarch in a medium saucepan. Add the water, stirring to dissolve. Stir in the blueberries and 1 tablespoon sugar. Bring to a boil over medium-high heat. Boil for 1-2 minutes, or until the sauce has slightly thickened. Remove from the heat. Stir in the vanilla. Cover to keep warm. Set aside.

In a medium bowl, stir together the oats, sorghum flour, brown sugar, baking powder and cinnamon.

In a small bowl, whisk together the milk, applesauce, egg and oil. Stir into the flour mixture until the batter is just moistened but no flour is visible. (Don't overmix or the pancakes will be tough.)

Heat a nonstick griddle over medium heat. Test the temperature by sprinkling a few drops of water on the griddle. If the water evaporates quickly, the griddle is ready. Pour ¼ cup batter for each pancake onto the griddle. Cook for 2 to 3 minutes, or until tiny bubbles appear on the surface and the bottoms are golden brown. Turn the pancakes over. Cook for 1 to 2 minutes, or until cooked through and golden brown on the bottoms. (The USDA recommends cooking egg dishes to 160˚F.) If you have more batter to use, place the pancakes in a single layer on the cooling rack, leaving some space between them. Transfer to the oven to keep warm. Repeat with the remaining batter (you should have a total of 8 pancakes).

Transfer the pancakes to plates. Spoon the sauce over the pancakes. Top each serving with 2 tablespoons yogurt.