Savory Sorghum Egg Bowl
https://www.sorghumcheckoff.com/recipes/savory-sorghum-egg-bowl/
1
people like this recipe
2
people dislike this recipe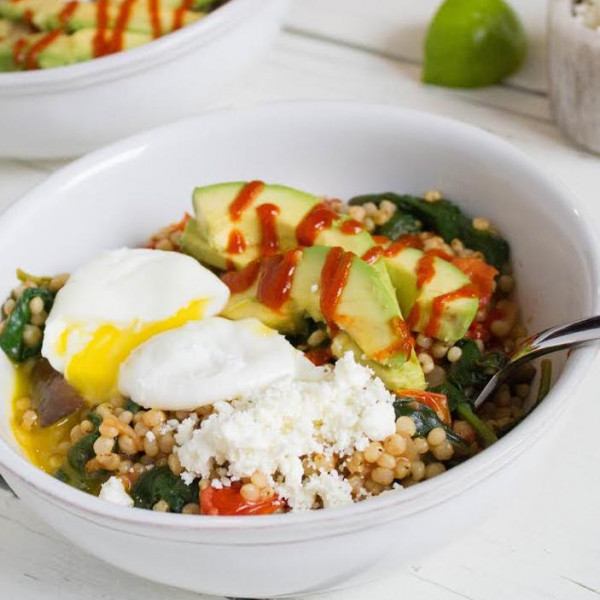 Ingredients
2 teaspoons olive oil

1/2 cup diced red or sweet white onions

1 garlic clove minced

1 cup baby Bella or button mushrooms, sliced

1 cup cherry or grape tomatoes, sliced in half

1/4 teaspoon sea salt 6 ounces baby spinach, washed and dried

1 1/2 cups cooked sorghum, whole grain

1/2 lime cut in wedges

1/4 cup feta cheese, crumbled

1/2 medium Avocado, sliced

2 large eggs

1 tablespoon rice wine vinegar, or other mild vinegar optional drizzle of Sriracha sauce
Instructions
Heat olive oil in a medium saute pan over medium heat. Add onion, stir and cook until soft, about 4 minutes, then add garlic and cook until lightly browned. Add mushrooms, tomatoes and sea salt and saute for another 3 minutes then stir mixture well and add spinach. Cover saute pan for 2 minutes then remove the cover, stir the spinach mixture and place the lid back on the saute pan for another 2 minutes, add cooked sorghum and a sprinkle of lime juice and stir until sorghum is hot.

Divide this vegetable sorghum mixture into two bowls. Place 2 tablespoons of feta cheese on top of the sorghum mixture in one section of the bowl. Sprinkle the avocado with lime and place half the avocado slices and a lime wedge on one section of the bowl and drizzle the avocado with Sriracha sauce.

To poach eggs, break each egg one at a time in a ramekin and set aside.

Fill a medium-size saucepan 2/3 full with water and bring it to a boil. Turn the heat down and add the vinegar (optional). When the small bubbles are starting to appear slide the eggs into the water and let them cook until the egg whites are slightly firm and the yolks are runny, about 2 minutes and 4 minutes for an egg yolk that is more well done but still soft.

Use a slotted spoon to remove the eggs. Place each poached egg on top of the sorghum vegetable mixture and sprinkle with salt if desired.