Sorghum Caramel Apples
https://www.sorghumcheckoff.com/recipes/sorghum-caramel-apples/
0
people like this recipe
0
people dislike this recipe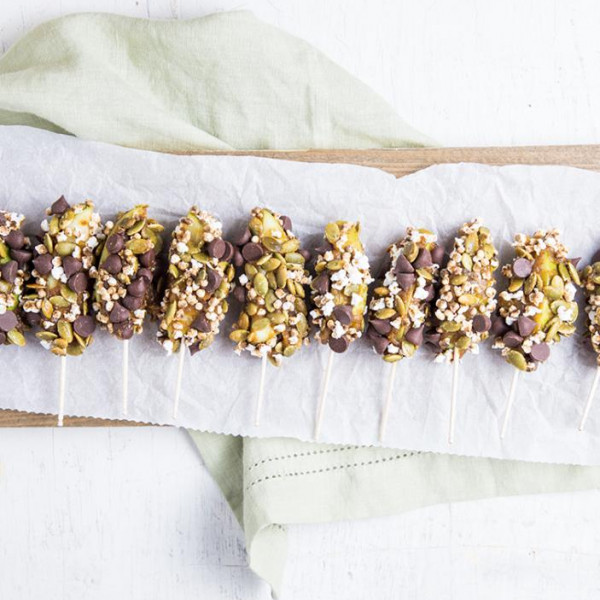 Ingredients
1 cup pitted dates (Sunsweet)

1 teaspoon sorghum syrup or maple syrup

2 tablespoons coconut oil

1/2 cup light coconut milk, or milk of choice

1/4 cup pumpkin puree or nut or seed butter

1 tablespoon vanilla extract

Pinch of salt

4 honeycrisp or granny smith apples cut into 8 wedges

1 tablespoon lemon juice (sprinkle on apple wedges)

1/4 cup whole grain dry sorghum or 3/4 cup popped sorghum

1/2 cup 85% Pascha chocolate chips

1 teaspoon avocado, grapeseed or coconut oil

1/2 cup Superseedz Pumpkin Seeds Maple Sugar and Sea Salt or naked pumpkin seeds

32 wooden sticks or paper candy holders
Instructions
Popped Sorghum Instructions
Preheat a saucepan over medium heat - it is important the saucepan is hot! Your pan is hot and ready to use once you sprinkle a drop of water to see if it sizzles and evaporates.

Place 1/4 cup whole grain sorghum into the preheated pan. Cover it with a tight fitting lid. This process takes about 3 minutes. Shake the pan to prevent burning until the sorghum starts popping. Once the popping slows to 6-8 seconds between pops, then remove from heat and pour onto the parchment lined baking sheet to cool. Repeat this process.
Caramel Instructions
In a small pot over low-medium heat, add the dates, coconut milk and coconut oil. Bring to a simmer, approximately 2-3 minutes. Reduce heat to low and simmer for 10 minutes. Remove from the stove and allow caramel to sit for a few minutes to cool.

In a food processor or high speed blender, add all of the caramel sauce ingredients and blend until the sauce is smooth. If the sauce is too thick, add another tablespoon or two of coconut milk or milk of choice. Pour the caramel sauce into a small bowl for dipping.
Assembly
Line a baking sheet with parchment paper. Place your popped sorghum into a shallow bowl with chocolate chips and pumpkin seeds.

Place wooden sticks in the bottom of each apple slice or place paper candy wrapper on baking tray.

Using a spatula or butter knife, spread the caramel sauce over the apple wedge and dip each wedge into the popped sorghum topping mixture.

Place finished apple wedges on baking sheet and place in the fridge to set for 10 minutes or until serving.

Apple wedges can be refrigerated for one day.