Sorghum Pizzelle
https://www.sorghumcheckoff.com/recipes/sorghum-pizzelle/
0
people like this recipe
0
people dislike this recipe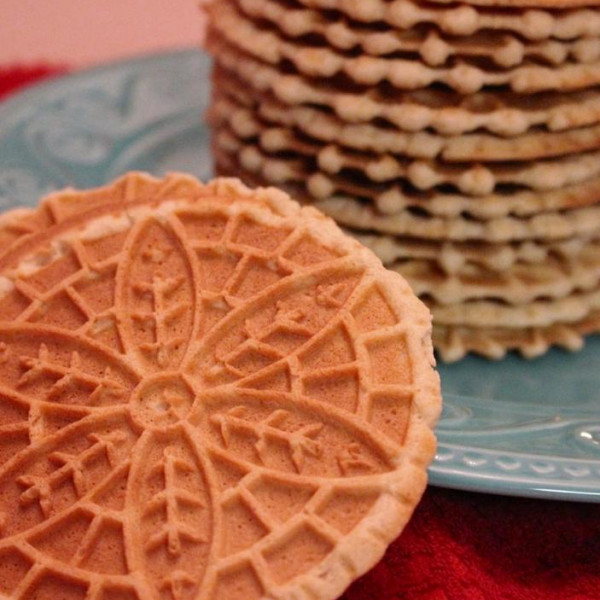 Ingredients
1 3/4 cups gluten-free all-purpose sorghum flour blend

2 teaspoons baking powder

3 extra-large eggs

3/4 cup granulated sugar

1/2 cup butter, melted

1 Tablespoon GF vanilla or anise extract
Instructions
Preheat the pizzelle press on medium setting while preparing the batter.


Place flour and baking powder in a small bowl and stir to blend; set aside. Place eggs and sugar in medium bowl and mix with hand mixer on medium speed for 1 minute, until thickened. On low speed, add the melted butter and vanilla in a steady stream mixing until combined. Add flour blend and mix until combined.

Lightly brush both the top and bottom grids with vegetable oil before baking. Scoop 1 1/2 to 2 teaspoons of dough and drop onto one of the patterned grids; repeat for second cookie. Slightly flatten the dough before closing and locking the lid. When the indicator light comes on, the pizzelle are ready. For a lighter-colored pizzelle, bake for a shorter time; for darker pizzelle, add a few more seconds. Remove pizzelle from the press using a heat-proof spatula and place on a rack to cool completely. Warm pizzelle may be wrapped around a dowel to form cannoli shells or slumped over a small inverted dish for an ice cream shell. Cooled pizzelle may be dusted with powdered sugar before serving.