Spinach and Almond Sorghum Salad
https://www.sorghumcheckoff.com/recipes/spinach-and-almond-sorghum-salad/
2
people like this recipe
0
people dislike this recipe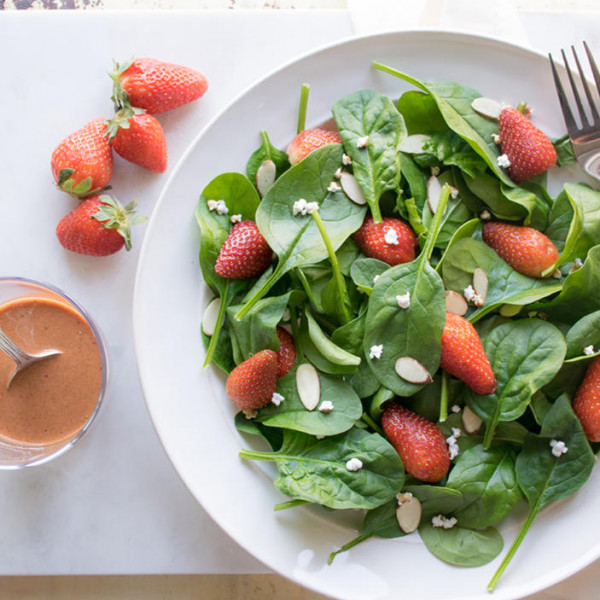 Sorghum Form
Popped Whole Grain
Share This Recipe
Ingredients
Dressing
1/4 cup hulled strawberries, cut in half (fresh or frozen)

1/4 cup balsamic vinegar

1/3 cup olive oil (see note)

1/2 teaspoon sorghum syrup

1/4 teaspoon sea salt
Instructions
In a blender add strawberries, balsamic vinegar, olive oil, sorghum syrup, and sea salt. Blend until strawberries are pureed, about 1 minute. Set aside or refrigerate until further use.

Heat a 12-quart stock pot over medium heat. Add avocado oil and whole grain sorghum (not rinsed) to the pot. Increase heat to medium-high heat, and cook until sorghum is done (according to package directions).

Once the sorghum pops, stir with a wooden spoon. Make sure to stand a small distance from the stove to avoid any splatter. Once there are more than 10 seconds between pops, remove from heat. Place in a medium size bowl and set aside.

Place spinach, almonds, sliced strawberries, and 3/4 of the popped sorghum in a salad bowl, and mix until well combined. Add dressing, and top with remaining popped sorghum.
Notes:
*Substitute coconut oil for olive oil, if desired.
*Avocado oil is a high heat oil, which is great for popping sorghum.

1/6th of a serving: Calories: 260 Fat: 20 grams Saturated fat: 2.5 grams, Carbohydrates: 20 grams, Sugar: 5 grams, Sodium: 120 milligrams, Fiber: 4 grams, Protein 4 grams Cholesterol: 0 milligrams

1/4th of a serving: Calories: 385 Fat: 25 grams Saturated fat: 4 grams, Carbohydrates: 30 grams, Sugar: 7 grams, Sodium: 180 milligrams, Fiber: 6 grams, Protein 6 grams Cholesterol: 0 milligrams