Sweet Peach Skillet Cake
https://www.sorghumcheckoff.com/recipes/sweet-peach-skillet-cake/
1
people like this recipe
0
people dislike this recipe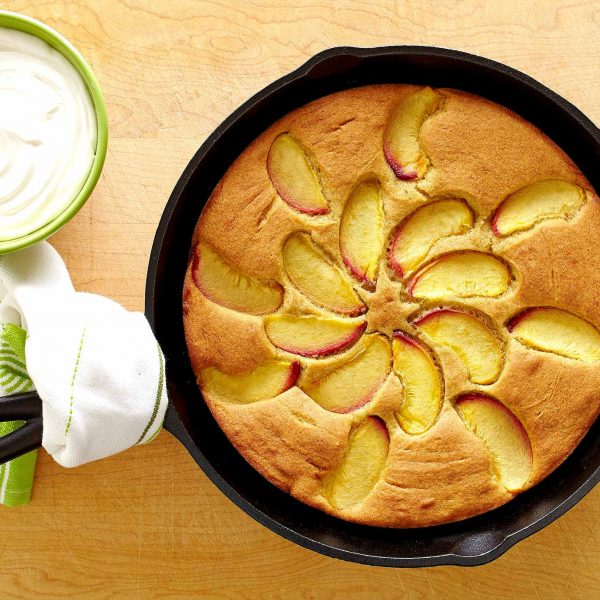 Recipe developed by:
Barbara Kliment, Executive Director-Nebraska Grain Sorghum Board
Share This Recipe
Ingredients
Cake
1 1/4 cup gluten-free sorghum all purpose flour

1 teaspoon baking powder

1/2 teaspoon baking soda

1/4 teaspoon salt

4 Tablespoons butter, room temperature

2/3 cup granulated sugar

3 large eggs

1 teaspoon vanilla

1/3 cup low-fat buttermilk

2 peaches, peeled & sliced (may use canned )
Topping
2 Tablespoons cinnamon sugar for topping
Instructions
Cake
Preheat oven to 350° F. Prepare 10-inch oven-proof skillet with cooking spray. ( I prefer cast iron. )

Whisk together sorghum flour, baking powder, baking soda, and salt. Set aside.

In separate bowl, beat butter and sugar with a mixer on medium speed until light and fluffy. Add vanilla. Beat in eggs and buttermilk.

Add dry ingredients and mix until blended.

Pour batter into prepared skillet. Place peach slices in spiral fan on top. Sprinkle with cinnamon sugar.

Bake until golden brown and a toothpick inserted in the center comes out clean—30 to 35 minutes. The batter bakes up around the peaches.
To serve
Let cool slightly before serving.

Cake can be served as rustic dessert topped with whipped cream sweetened with sorghum syrup or as a breakfast cake.