Zest Fest Salad with Lemon Lime-Dressing
https://www.sorghumcheckoff.com/recipes/zest-fest-salad-with-lemon-lime-dressing/
0
people like this recipe
0
people dislike this recipe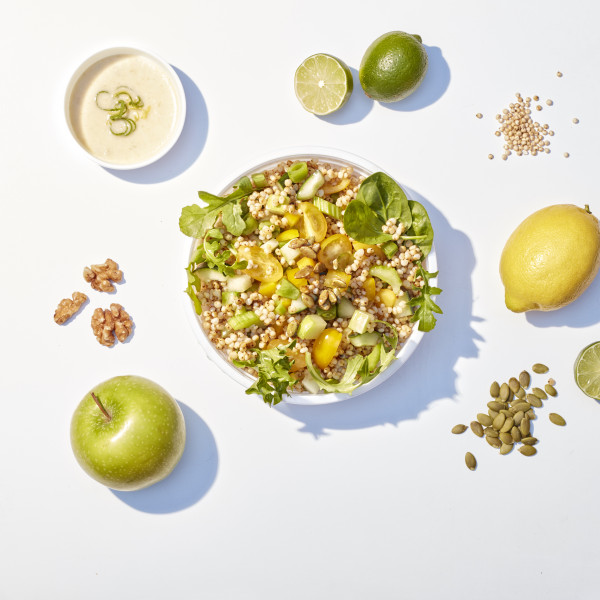 Ingredients
1 cup uncooked sorghum

1 cup yellow cherry tomatoes, halved

1 cup chopped yellow bell pepper

1 cup chopped cucumber

1 cup chopped Granny Smith apple

1⁄2 cup chopped sugar snap peas

1⁄2 cup thinly sliced celery

8 cups mixed salad greens
Topper
Purchased Honey Roasted Nuts or Candied Nuts and Seeds (see below)
Dressing Ingredients
1 cup canned crushed pineapple in juice, undrained

1⁄4 cup lime juice

1⁄4 cup lemon juice

2 Tbsp grated ginger

1 to 2 Tbsp chopped jalapeño chile (depending on desired heat level)

1 tsp Dijon mustard

1 tsp lemon zest

1 tsp lime zest

1⁄8 tsp cayenne pepper

Coarse salt to taste

1⁄2 cup vegetable oil
Instructions
Cook sorghum according to package directions. Let cool.

Meanwhile, mix remaining salad ingredients (except the greens) in a large bowl. Add cooked sorghum once cooled.

To make dressing, place all dressing ingredients in a blender; process until smooth. With the blender running, slowly pour in oil, processing until thick and smooth.

Stir half the dressing into the salad mixture; toss to coat well. Arrange salad greens on plates. Spoon salad mixture on top; drizzle with remaining dressing and garnish with candied nuts.
Candied Nuts & Seeds
Heat oven to 400 ̊F. Mix 1 cup broken walnuts, 1 cup raw pumpkin seeds (pepitas), 1⁄4 cup maple syrup, 2 tsp coarse salt, 1⁄2 tsp lime zest, 1⁄2 tsp lemon zest, and 1⁄2 tsp red chile flakes; stir to coat well. Spread evenly on a parchment-lined baking sheet; roast 5 to 7 minutes or until crisp (watch carefully so they don't burn). Let cool; break into pieces.