Apple Gingerbread Skillet Cake Recipe
https://www.sorghumcheckoff.com/recipes/apple-gingerbread-skillet-cake-recipe/
2
people like this recipe
0
people dislike this recipe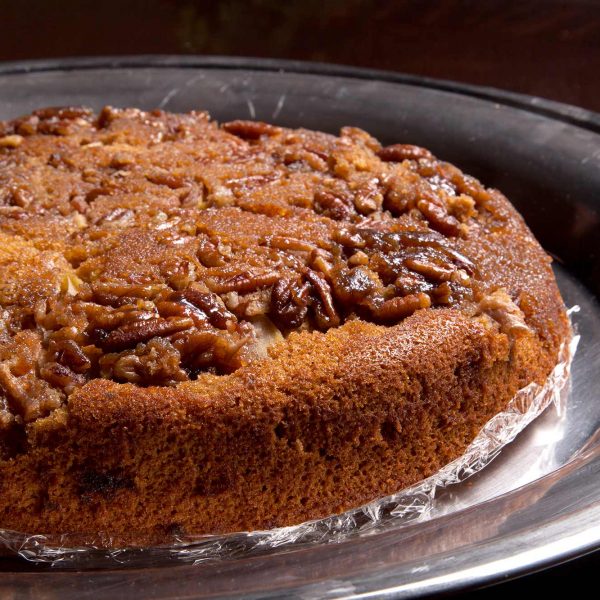 Recipe developed by:
Mary Leverette
Share This Recipe
Ingredients
Topping:
4 tbsp butter

1/4 cup brown sugar

4 tbsp sorghum syrup (sorghum molasses)

1/2 cup chopped pecans

2 large firm apples, peeled, cored and sliced thin
Gingerbread:
1/2 cup sugar

1/2 cup butter

1 egg

1 cup sorghum syrup (sorghum molasses)

1 1/2 tsp baking soda

1 tsp ground ginger

1/2 tsp ground cloves

1/2 tsp salt

2 1/2 cups all purpose flour

1 cup hot water
Instructions
Heat oven to 350° F. In a 12-inch cast iron skillet, melt 4 tbsp butter to begin the topping mixture. Stir in brown sugar, sorghum syrup and pecans. Evenly layer apple slices over the sugar mixture.

To make gingerbread, cream butter, sugar and egg. Add sorghum syrup. Stir together dry ingredients and slowly add to batter. Add hot water and mix well. Pour batter on top of apples.

Bake for 30 to 40 minutes or until gingerbread springs back lightly when pressed with a finger. Remove skillet from oven and invert onto a heatproof serving plate. Serve warm or cold. Very good with sweetened whipped cream or vanilla ice cream.