Artisan Cheese Crackers
https://www.sorghumcheckoff.com/recipes/artisan-cheese-crackers/
0
people like this recipe
0
people dislike this recipe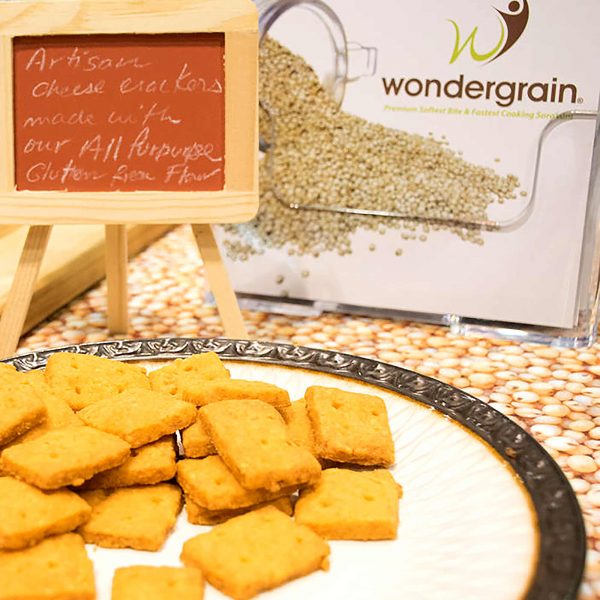 TIPS: Dough may be frozen for later use. Roll the leftover dough that you cut when making the strips and make more crackers.
Recipe developed by:
Wondergrain
Share This Recipe
Ingredients
2 tablespoons unsalted butter (room temperature)

¾ cup finely grated sharp cheddar cheese, lightly packed

â…" cup finely grated parmesan cheese, lightly packed

½ tsp paprika

Pinch of cayenne

¼ tsp salt

½ cup Wondergrain gluten free all purpose flour

1 tablespoon cold water
Instructions
Preheat oven at 375 degrees F. In a mixing bowl, mix together the soft butter and the cheeses. Season with paprika, cayenne pepper and salt. Mix well with spatula until it forms a thick paste. Add the flour and work it into the mixture with the back of a fork. Break the lumps with the tips of the fork. The mixture will become crumbly but it will be well mixed. Add the cold water and mix with the spatula. At that point, you can use our hands to mix and form a ball. If the mixture is too crumbly, add another tablespoon of water and work it with your fingers. You don't need to knead it. It will be soft but not sticky.

Form a lump and flatten in the shape of a disk. Wrap with plastic wrap and refrigerate for 1 hour.

Line 2 baking sheets with lightly greased aluminum foil and set aside. Flour your work surface and roll your dough to approximately â…›" thick. Add more flour if needed. Don't worry about shape. Cut the dough into strips, then make rectangles. Add 3 holes in each one.

Line the rectangles up on the cookie sheet. Bake for approximately 12 minutes until they are lightly golden. They will stick to the aluminum paper so let cool for about 3 minutes and they will peel easily off of the baking sheet. Crackers will be crunchy and cheesy!