Pumpkin Spice Energy Bites
https://www.sorghumcheckoff.com/recipes/pumpkin-spice-energy-bites/
4
people like this recipe
0
people dislike this recipe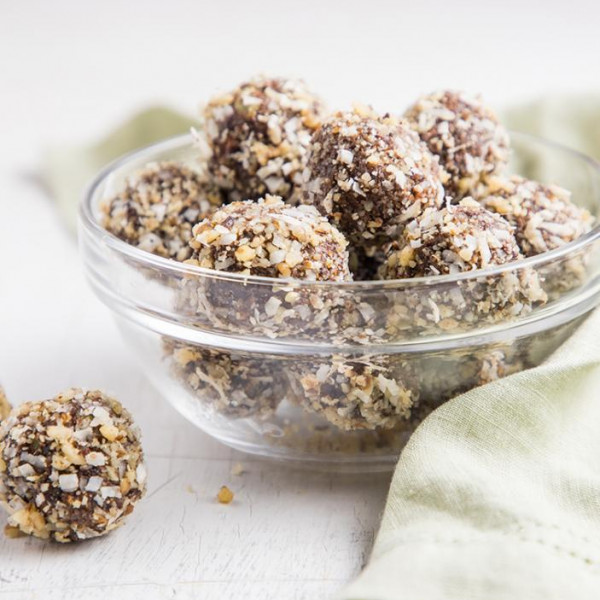 Ingredients
1 cup pitted prunes

1/2 cup Superseedz Cinnamon & Sugar pumpkin seeds or naked pumpkin seeds

3/4 cup Multi Grain Cheerios (Gluten Free) or sorghum based cereal of your choice

1 1/2 teaspoons pumpkin pie spice

1 teaspoon sea salt

1/4 teaspoon sea salt

1/4 cup pumpkin puree (nut or seed butter could be used)

3 tablespoons ground flax seeds

3 tablespoons finely shredded coconut flakes

3 tablespoons finely chopped walnuts
Instructions
Line a baking sheet with parchment paper or silpat map

Add prunes to food processor and pulse until they are in small pieces. Add pumpkin seeds, cheerios, pumpkin pie spice, sorghum syrup, sea salt, pumpkin puree and flaxseed. Mix until only fine pieces remain. The batter should resemble dough and feel sticky.

Using a 1 tablespoon measuring spoon, scoop out 1 tablespoon of "dough" and form into balls. Place onto lined baking sheet.

In a shallow bowl, add finely shredded coconut flakes and finely chopped walnuts.

Roll cereal balls in coconut and walnut mixture and return to baking sheet.

Refrigerate for a minimum of 30 minutes or up to 2 hours and serve.

Store in a labeled and dated airtight container for up to one week in the fridge.