Spiced Sorghum Cookies with Cranberry Glaze
https://www.sorghumcheckoff.com/recipes/spiced-sorghum-cookies-with-cranberry-glaze/
0
people like this recipe
0
people dislike this recipe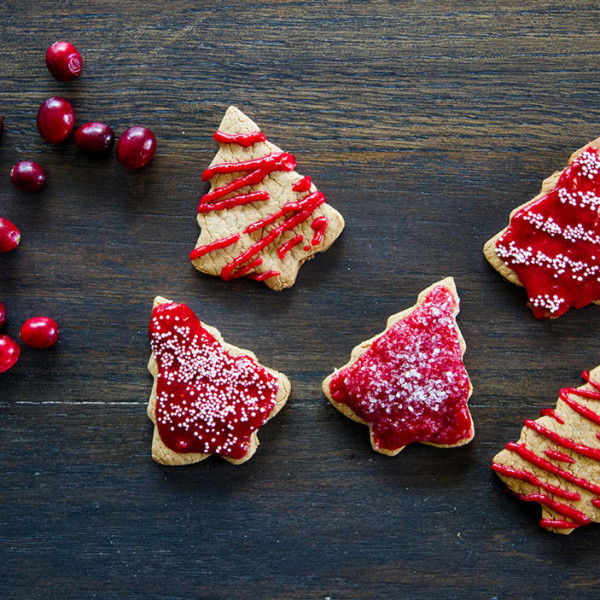 Ingredients
Sorghum Cookie Recipe:
1 stick (8 tablespoons) butter or vegan butter (softened) (*see note)

1/2 cup turbinado sugar (* see note)

1 large egg or 1 flax egg (*see note)

3 tablespoons sorghum syrup

1 teaspoon vanilla extract

3/4 teaspoon baking powder

1-1 1/2 teaspoon cinnamon

1/4-1/2 teaspoon ground ginger

1/4 teaspoon sea salt

2 cups gluten sorghum free flour blend
Cranberry Sorghum Glaze:
1 cup whole cranberries

1 tablespoon sorghum syrup

2 tablespoon water

1/2 teaspoon vanilla extract

1 cup powdered sugar
Instructions
Preheat oven to 375 °F and line baking sheet with parchment paper. Set aside.



In a medium bowl or bowl of your stand mixer, add butter and beat until creamy and smooth, 30-60 seconds.

Add sugar and mix on medium speed until light and airy, about one minute. Then add egg or flax egg, sorghum syrup and vanilla extract mix for about 30 seconds, then scrape down the sides and mix for about another minute.

Add baking powder, cinnamon, ginger, sea salt and gluten free sorghum flour blend and mix on low until the ingredients are well combined. Scraping down the sides as necessary.


The dough should be thick and easy to assemble the dough into two balls and place in plastic wrap or parchment paper. Press down into a disk, cover and place it in the refrigerator for a minimum of 30 minutes. The butter dough is a bit softer than the vegan dough. Take out one disk of dough at a time leaving the other disk in the refrigerator until you are ready to use it.

Using a 1 1/2 tablespoon scooper or 1 1/2 tablespoon measuring spoon, gently roll dough into a balls and place on the parchment lined baking sheet or sheets. Use the back of a round drinking glass or the palm of your hand and press down to your desired thickness. (The butter dough will easily press down to a thinner thickness.) They won't really spread so keep that in mind. You can also roll the dough out and cut out shapes using cookie cutters. Bake for 10 minutes. Let cool.

In a saucepan, combine the cranberries, sorghum syrup, water and vanilla extract. Bring to a simmer over low-medium heat for about 6-8 minutes until cranberries burst. Let cool slightly. Place in an individual or high speed blender and add one cup powdered sugar and mix until well combined. It will be a thick, red glaze.

Frost the cookies using approximately 1/2 teaspoon of glaze on each cookie. Use the back of a spoon to spread the glaze or drizzle the glaze using a plastic baggie with the corner cut off.
Notes
*Turbinado sugar is from the first pressings of the sugar cane.
*1 flax egg = 1 tablespoon flaxseed + 3 tablespoons water in a small bowl and let sit until thick.
*Cultured vegan butter was used.
*Cookie dough can be made ahead of time and refrigerated for up to two days. When ready to use the cookie dough place on the counter until it reaches room temperature.
*Cookies can be placed in an airtight container or freezer safe bag for 3-4 days or frozen up to 1 month. the container or freezer bag should be labeled and dated.
*Freezing cookie dough: Wrap the disks in parchment paper or plastic wrap and transfer to a plastic freezer bag or freezer safe container. Remove as much air as possible, label and date the bag or container, and freeze for up to three months. To then bake these cookies remove one of the disks from the freezer in the refrigerator overnight then place on the counter for 30 minutes until it the dough is room temperature.
*Use a 1 1/2 tablespoon scooper or 1 1/2 tablespoon measuring spoon and gently roll dough into balls and place on the parchment lined baking sheet or sheets or Roll into 1/8 inch thick disk, cut the cookies and bake as directed.