Whole Grain Sorghum Stuffing
https://www.sorghumcheckoff.com/recipes/whole-grain-sorghum-stuffing/
1
people like this recipe
0
people dislike this recipe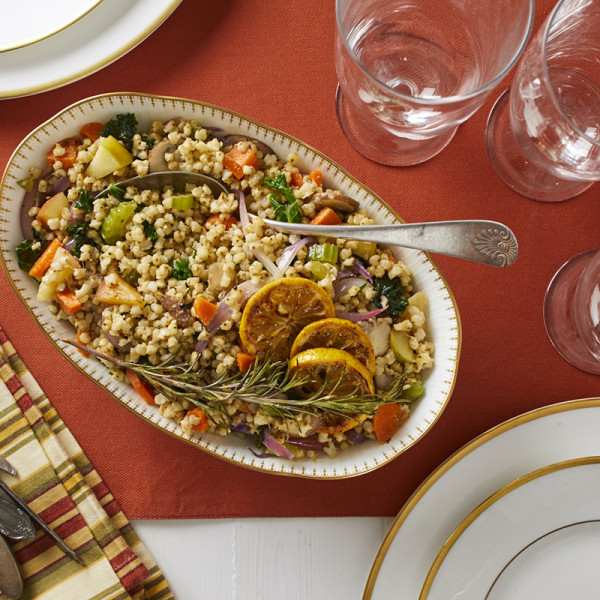 Ingredients
2 cups peeled and chopped butternut squash or sweet potato

1 – 8 ounce package sliced mushrooms

1 large green apple, cored and chopped

1 large red apple, cored and chopped

1 cup peeled and chopped carrots

1 cup chopped celery 1 bunch kale, torn

1 large red onion, sliced into thin wedges

1 lemon, sliced 2 sprigs fresh rosemary

2 sprigs fresh thyme

1 stick butter, cut into 8 pieces

3-4 tablespoons olive oil

Salt and pepper to taste

8 cups cooked whole grain sorghum

2 tablespoons snipped fresh parsley

2 teaspoons snipped fresh sage

1 cup toasted pecans, chopped (optional)

½ cup olive oil

3 tablespoons lemon juice

2 cloves garlic, minced

Salt and pepper to taste
Instructions
Preheat oven to 400F.

Line a 15x10x1-inch baking pan with foil. Spread squash, mushrooms, apples, carrots, celery, kale, onions, lemon, rosemary, and thyme over foil. Top vegetables with butter pieces. Drizzle with olive oil and seasoning with salt and pepper. Roast vegetables for 25 to 30 minutes or until tender, tossing occasionally.

Meanwhile, in a small bowl whisk together ½ cup olive oil, lemon juice, garlic, salt, and pepper. Set aside.

In a large serving bowl, combine roasted vegetables, sorghum, parsley, sage, and pecans, if using. Drizzle with lemon-garlic dressing.
Nutrition Facts
Serving size

1

Servings

8